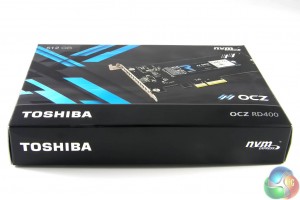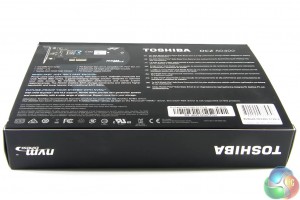 The front of the box has an image of the RD400, its capacity and the fact that it's a NVMe (Non-Volatile Memory Express) drive. The rear of the box lists what's in the box, a few facts about the drive and some marketing blurb.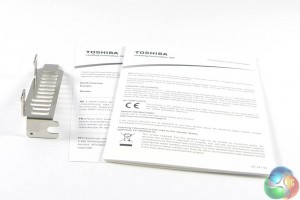 There's not a lot in the box apart from the drive, just a half height bracket and some contact information about Toshiba's technical support and RMA departments.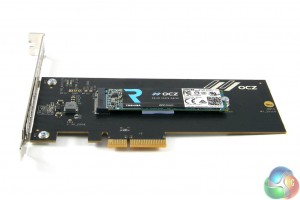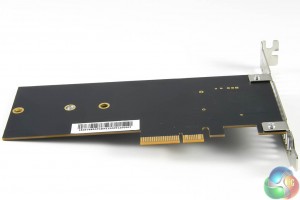 The HHHL (Half-Height, Half Length) add-in card version allows those who have motherboards without a M.2 PCIe x4 port on-board to still be able to use the drive as it fits in any PCIe x4 and above slot.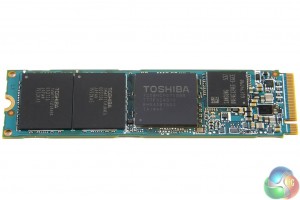 The M.2 2280 drive layout is simplicity itself with all the components laid out on one side of the PCB. The controller is a proprietary Toshiba 4-channel PCIe NVMe  chip coded TC58NCP070GSB while the two 256GB NAND packages are Toshiba 15mn Toggle MLC coded TH58TFT1JFL-BAEG.
Rounding up the IC's is a Samsung LPDDR3 chip used for cache duties.
The new SSD Utility replaces the old OCZ SSD Guru and is one of the more comprehensive SSD toolbox utilities around. With it you can how the drives capacity is being used, which interface the card is using and how much longer life the drive has left and SMART information.
There's a tuner section which has a built in benchmark and adjustment for over provisioning of the drive. The maintenance section is where you find the to0ls for firmware updates, Secure Erasing and any drive alerts such as power loss or over heating.
Booting from a NVMe SSD is a bit easier than it used to be, well it is if you have a UEFI BIOS that supports NVMe but even then they may some tinkering to be done in the BIOS.
Windows 8.1 and 10 have built-in NVMe support and although the Windows NVMe driver is gradually improving, to get the best performance out of the RD400 its best to use Toshiba's own driver.