Last updated on May 30th, 2016 at 04:57 pm
The choice of two formats for the drive is a good move on Toshiba OCZ's part as not everyone has an up-to-date motherboard with a M.2 PCI-E x4 port built in, so the add-in HHHL card option which fits into any x4 PCI-E slot enables the drive to reach a much larger audience.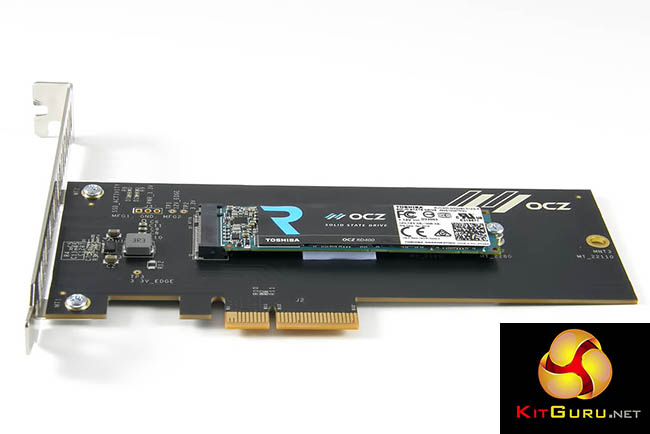 The sequential performance of the drive is stunning at 2,704MB/s for reads and 1,600MB/s for writes and the random 4K performance at fairly deep queue depths is equally impressive. At shallow queue depths more in tune with desktop use the 4K random write performance is much more impressive than the read, which shows no real improvement over a performance SATA interfaced Solid State Drive.

When it comes to IOPS, the RD400 again shows an amazing turn of speed.  The official figures for the 512GB drive are eye popping enough at up to 190,000 IOPS and 120,000 IOPS for read and writes respectively but under test conditions using the IOMeter benchmark even these figures seem tame as the drive produced a figure of 172,358 IOPS for writes and a staggering 237,178 IOPS for reads.
The RD400 shows the potential of the combination of both NVMe and the PCIe interface. Its very early days for the technology in the consumer market space with the prospect of some incredibly fast and it must be said large capacity drives to come in the future.
Toshiba OCZ back the RD400 with a 5 year warranty under the Advanced Warranty service, a warranty scheme previously known as ShieldPlus.
The basic M.2 2280 RD400 512GB (RVD400-M22280-512G) has a MSRP of £219.99 and the AIC version (RVD400-M22280-512G-A) as reviewed is priced at £259.99. If retailers shave a few quid off those prices then Samsung's SSD950 will find itself with some serious competition.
Pros
Stunning performance.
Choice of drive formats.
SSD Utility.
Cons
Needs UEFI BIOS and NVMe motherboard support to be bootable.
4K random read performance at shallow queue depths.
Kitguru says: The future for performance SSD's may well lie in the combination of NVMe/PCIe technologies and Toshiba OCZ's RD400 drive is a perfect example of why.