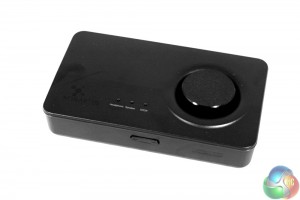 The Asus Xonar U5 amplifier itself is pretty innocuous, which is probably a good thing considering this will sit on top of a PC or on your desk somewhere. It does not need to take up room or draw the eye too much. It is a simple, black box with a turn dial volume control on top and a handful of LED indicators that let you know when you are making use of the headphone, speaker and SPDIF jacks.
The front also has a rockable button for microphone volume control that feels 'clicky' compared to the smooth twist of the output dial.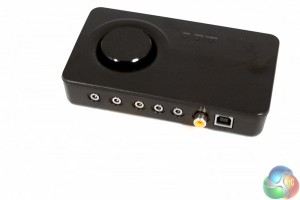 Spinning around to the back, we have all the input ports. They are from left to right: microphone, headphones, front speaker, centre/subwoofer, rear speaker, SPDIF and USB. The latter of those is the data and power connector for the amplifier, while the rest (save the microphone of course) are all outputs.
The underside has small rubber feet to keep the Xonar U5 in place and also has an almost hidden little switch, to let you change between USB 1.1 and USB 2.0 mode.
Installation is simple. Plug the Xonar U5 into a USB port and install the latest version of the ASUS software. While it is not discreet like an internal sound card, it is very convenient and would allow you to switch over to your laptop for added sound quality too.