Although solid-state drives are considerably more affordable these days than they were several years ago, high-capacity 1TB SSDs remain pretty expensive and with price-points like £349/$550 out of budget of the vast majority of PC enthusiasts. However, the situation is changing.
Mushkin Enhanced, a leading maker of advanced PC components, on Thursday unveiled its new breed solid-state drives called Reactor that is expected to wed high-capacity with relatively affordable price. At present the new family includes only 1TB model, but eventually Mushkin may expand the new product line with lower-capacity or higher-capacity offerings.
The Mushkin Reactor solid-state drive with 1TB capacity comes in 2.5"/7mm form-factor, it features Serial ATA-6Gb/s interface and 1GB DDR3 DRAM cache. The Reactor SSD is based on rather inexpensive quad-channel Silicon Motion SM2246EN controller and multi-level cell NAND flash memory (according to Newegg store, Mushkin itself did not reveal the type of flash it uses). The new drive offers 560MB/s maximum sequential read speeds as well as 460MB/s maximum sequential write speeds, which is not bad by today's standards. Unfortunately, random 4KB performance of up to 74K/76K read/write IOPS [input/output operations per second] is significantly below that of contemporary SSDs based on other controllers. Mushkin's Reactor solid-state drive supports all modern SSD technologies, including TRIM, NCQ, DevSleep, DataRefresh, EartlyRetirement, SMART, secure erase and so on.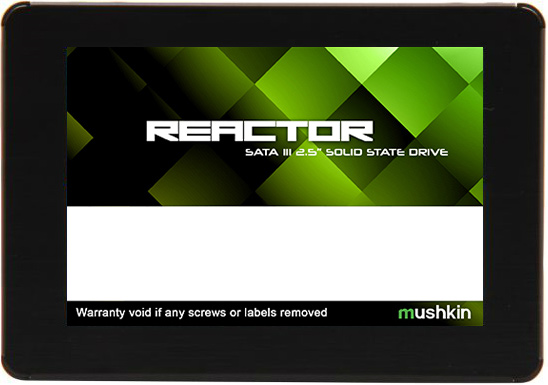 Even though Mushkin's Reactor 1TB SSD is not a performance champion, it costs significantly less than the vast majority of 1TB solid-state drives. Newegg currently sells Mushkin Reactor 1TB for $379.99 ($0.37999 per GB). The same store offers Crucial M550 for $449.99 ($0.44999 per GB). While Samsung 840 Evo 1TB costs $359.99 ($0.35999) and is still the cheapest SSD with this capacity, it is based on TLC NAND flash, which wears out quicker than MLC NAND memory. Typically, brand-new products are sold at full price, hence, over time the price of Mushkin Reactor SSD will decline.
"Solid-state drive technology is growing in leaps and bounds. Mushkin has been a leader in unleashing performance-maximizing products for a wide array of consumers, and we are pleased to be able to – once again – offer an SSD solution that can quench the growing need for large-scale data capacity at incredible speeds," said Nicolas Villalobos, director of global marketing at Mushkin.
Thanks to availability of relatively affordable Mushkin Reactor 1TB and Samsung 840 Evo 1TB SSDs, solid-state drives with capacities comparable to modern hard drives cease to be exotic and start to be products that will be seriously considered by those who need a lot of solid-state drive space, but do not have a limitless budget.
Discuss on our Facebook page, HERE.
KitGuru Says: Looks like Mushkin has found a way to make rather cheap 1TB SSDs based on MLC NAND and still make money. If this is true, then we will see other makers with affordable high-capacity solid-state drives pretty soon.