OCZ Storage Solutions, a wholly owned subsidiary of Toshiba Corp., this week introduced a new version of its Vertex 460 solid-state drives that is powered by Toshiba's second-generation 19nm NAND flash multi-level cell memory with toggle DDR interface. The Vertex 460A SSDs are slightly faster than the original drives, even though they are based on the same controller.
OCZ Vertex 460A solid-state drives come in 2.5"/7mm form-factor and use Serial ATA-6Gb/s interface. Like the predecessors, the new drives are offered in 120GB, 240GB and 480GB capacities. The new drives are based on OCZ Indilinx Barefoot 3 M10 controller with some firmware tweaks to better support the new memory.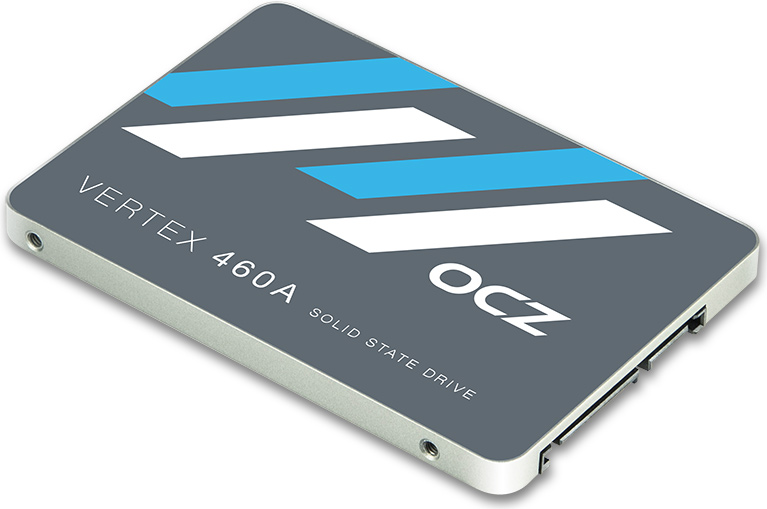 Just like the original Vertex 460, the new Vertex 460A sports advanced firmware which ensures that the SSDs offer maximum performance (up to 540MB/s read speed, up to 525MB/s write speed, up to 95K read IOPS [input/output operations per second] and up to 90K write IOPS) after long periods of usage. Additionally, the Vertex 460/460A SSDs feature tweaks that improve their performance under mixed read/write workloads which often occur during heavy multi-tasking. The new drives support SMART, TRIM, idle time garbage collection and 256-bit AES encryption. Specifications of the new Vertex 460A drives are even slightly better compared to those of Vertex 460.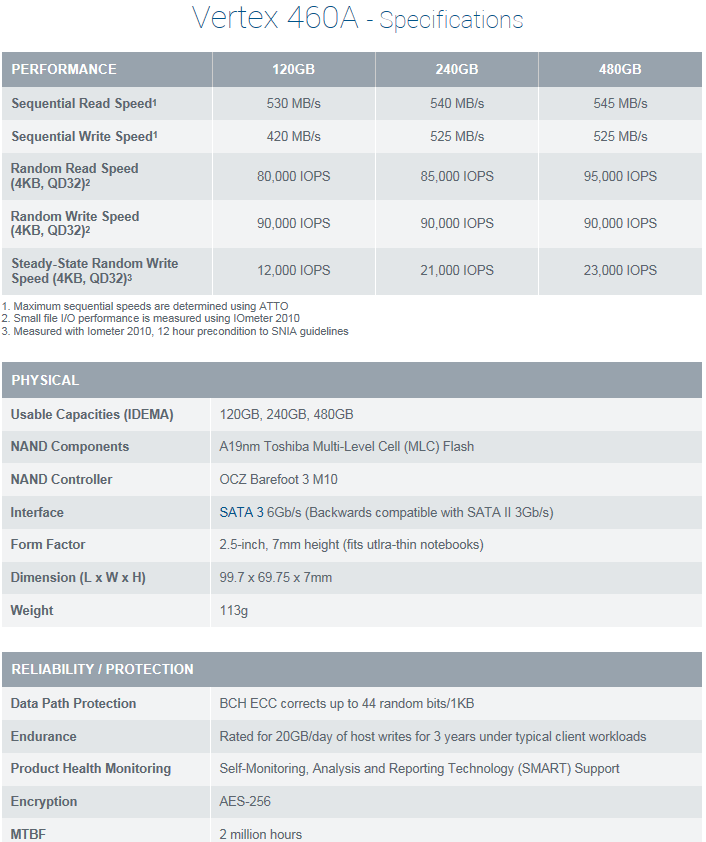 It is unknown whether there are any differences in performance or behaviour of the Vertex 460A SSDs powered by Toshiba's second-generation 19nm MLC NAND flash compared to the predecessors, which were based on Toshiba's first-gen 19nm MLC NAND memory.
It is likely that OCZ will quietly replace the Vertex 460 SSDs with Vertex 460A SSDs on the market. Therefore, do not expect any differences when it comes to prices.
Discuss on our Facebook page, HERE.
KitGuru Says: After all the recent scandals when makers of SSDs switched from one NAND flash type to another without changing names of models, it is nice to see that Toshiba actually decided to notify its customers about the change. It is more than likely that Toshiba's second-gen 19nm MLC NAND flash performs just like the first-gen 19nm MLC NAND memory, still, there may be certain differences. Therefore, wait for the reviews before buying…