OCZ Storage Solutions, a wholly-owned subsidiary of Toshiba Corp., on Thursday introduced a new RevoDrive 350 solid-state drive with PCI Express interface that is designed for workstations and enthusiast-class personal computers. The new SSDs feature incredible performance previously obtainable only from enterprise-class drives.
OCZ RevoDrive 350 is powered by four LSI SandForce SF-2282 controllers to provide extreme level of performance. The SSD utilizes multi-level-call (MLC) NAND flash memory made using second-gen 19nm fabrication process by Toshiba. The RevoDrive 350 delivers up to 1.8GB/s sequential read speeds, up to 1.7GB/s sequential write speeds as well as up to 140 thousand 4K random write IOPS (find out precise specifications of various RevoDrive 350 models below). The drives are rated for 50GB/day of host writes for 3 years under typical client workloads, which is better endurance compared to mainstream consumer SSDs. The new SSDs come in PCI Express 2.0 x8 form-factor.
The RevoDrive 350 relies on OCZ's proprietary VCA 2.0 [virtualized controller architecture] technology that effectively makes the RevoDrive 350's multi-controller design appear and act as a single drive to the host system to enable drive-level management features such as secure erase, SMART, and TRIM. In addition to mass data storage, the RevoDrive 350 can also be used as bootable device, providing ultra-fast system boot-ups.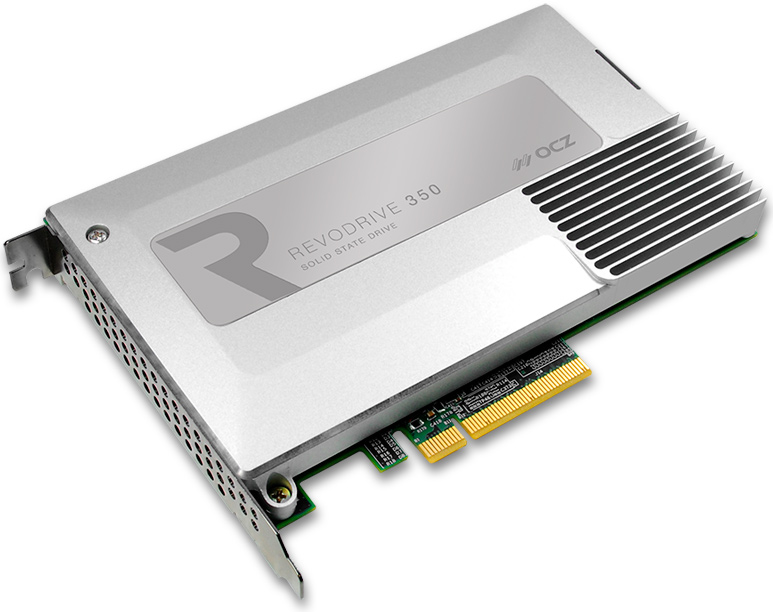 "The new RevoDrive 350 is built using proven technology with the added benefit of utilizing in-house premium Toshiba flash and OCZ's proprietary Virtualized Controller Architecture (VCA) 2.0 to deliver highly efficient performance aggregation while reducing the burden on host resources," said Daryl Lang, senior vice president of product management for OCZ Storage Solutions. "This next generation PCIe SSD is the ideal solution for performance-minded users looking to maximize both bandwidth and density for the complete gamut of gaming, content creation and workstation applications."
The RevoDrive 350 SSDs are already available in 240GB, 480GB, and 960GB capacities for $529, $829 and $1299 in the U.S. at Newegg. While the per-GB costs of the RevoDrive 350 are rather high, it should be noted that previously levels of performance provided by the new OCZ PCIe drives were available only on ultra-expensive enterprise-class storage solutions.
Discuss on our Facebook page, HERE.
KitGuru Says: If you are an extreme enthusiast, the new OCZ RevoDrive 350 is just what you need…