OCZ Storage Solutions, a wholly owned subsidiary of Toshiba Corp., has announced that its yet-to-be-released Z-Drive 6000-series solid-state drive for hyperscale datacenters had received NVM 1.1b compliance certification from the NVMe consortium.
OCZ Z-Drive 6000 SSDs are based on scalable PMC Sierra controllers and various types of NAND flash memory manufactured by Toshiba. The solid-state drives will be available in storage capacities ranging from 800GB up through 6.4TB. The Z-Drive 6000 high-performance storage solutions will feature ~3GB/s read/write transfer rates, according to unofficial information. The NVMe 1.1b drives will be available in 2.5" form-factor and with a hot-pluggable SFF-8639 connector for easy deployment and superior serviceability.
Compliance to the NVMe 1.1b industry standard gives server makers, OEMs and third party SSD developers confidence that their development efforts will be NVMe-compliant. Compliant drives are compatible with other PCI Express/NVMe 1.1b systems and therefore with modern servers.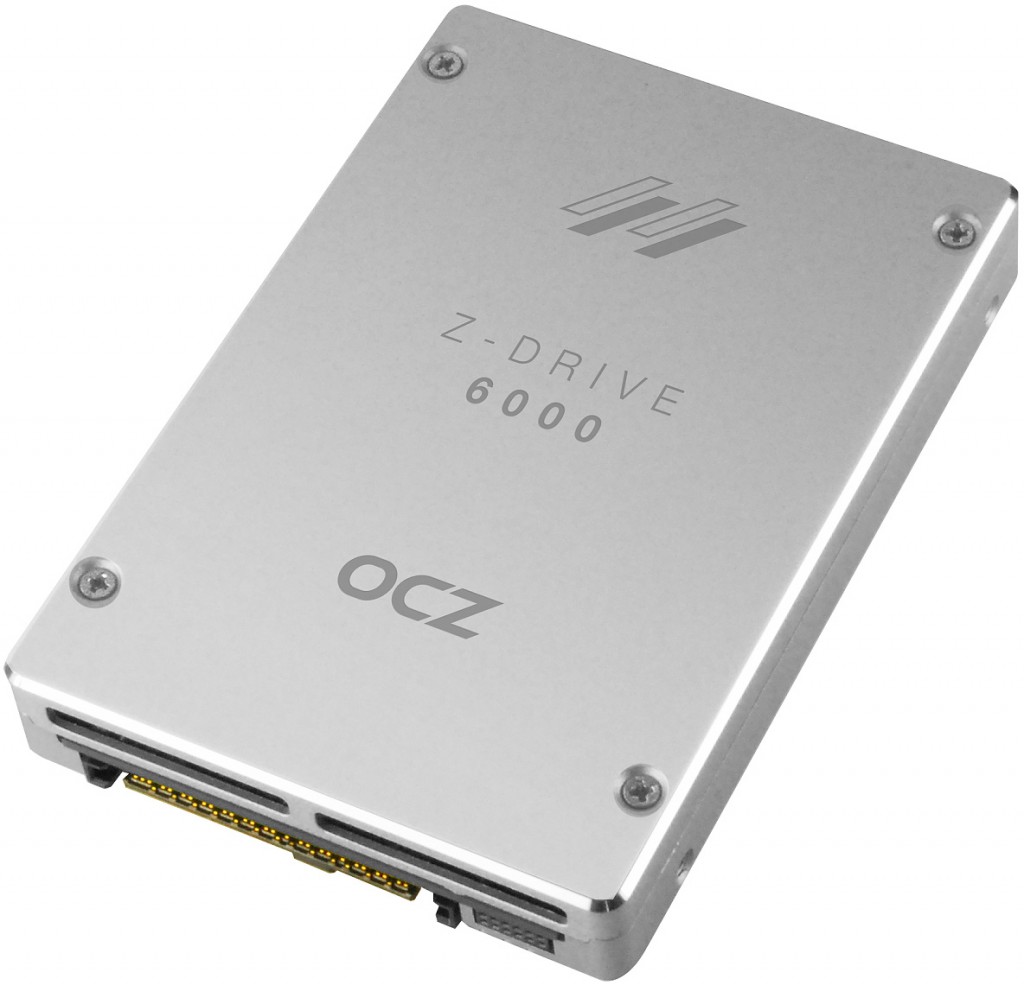 OCZ Z-Drive 6000. Image by TweakTown
"We are pleased to achieve NVMe certification of our upcoming Z-Drive 6000 PCIe Series SSDs which provides customers the validation they need to evaluate our drives," said Daryl Lang, CTO for OCZ Storage Solutions. "We absolutely understand the importance that an OEM places on third party affirmation of such an important decision as qualifying a supplier of high-end PCIe SSDs, and this certification will help provide all of those customers with peace of mind as they receive samples of our cutting edge solution."
NVMe is an optimized, high-performance, scalable host controller interface based on the PCI Express technology with a streamlined register interface and command set.
The compliance testing was conducted by the NVMe Workgroup at the University of New Hampshire's InterOperability Lab (UNH-IOL) as part of a second NVMe 1.1b annual plugfest.
The Z-Drive 6000 is currently sampling to select customers and expected to be generally available early in 2015.
Discuss on our Facebook page, HERE.
KitGuru Says: OCZ's Z-Drive 6000 will be among the first NVMe 1.1b-compliant SSDs. Therefore, OCZ will be able to sell quite a lot of them next year. Thanks to the fact that the company is now a part of Toshiba, it will be offer to build any configurations its customers demand, something it could not do when it was independent.