Plextor, a leading maker of solid-state drives primarily known for high-end SSDs, this week officially introduced its M6V family of products that target customers in budget. The new M6V lineup features triple-level-cell (TLC) NAND flash memory and an inexpensive controller. Nonetheless, Plextor claims that the drives boast with the company's legendary reliability and sustained performance.
The Plextor M6V family of solid-state drives will be offered in 2.5"/7mm (M6V), M.2 2280 (M6GV) and mSATA (M6MV) form-factors. The drives will feature 128GB, 256GB and 512GB (2.5" and M.2 models only) capacities, all of which are rated to offer maximum sequential read/write speed of up to 535/455MB/s. Maximum random 4K read/write speed declared by the manufacturer is 83000/80000 IOPS [input/output operations per second]. See precise specifications below.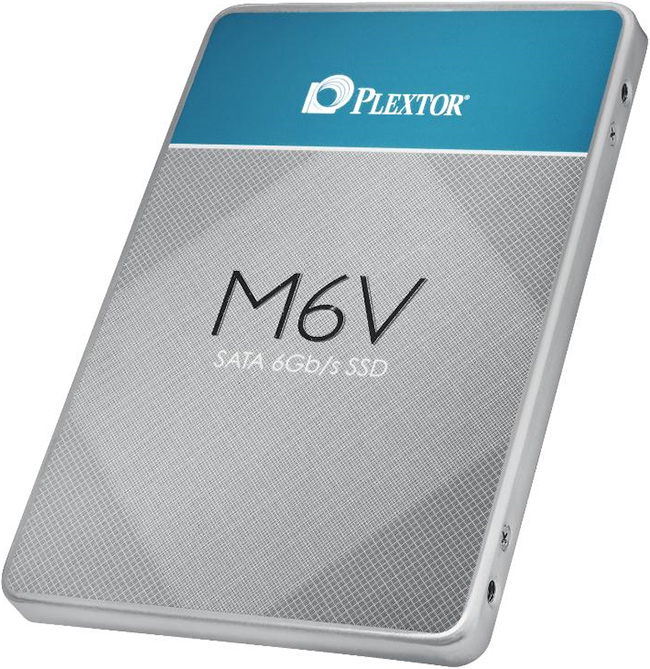 The Plextor M6V SSD is based on quad-channel Silicon Motion SM2246EN controller that was designed for inexpensive solid-state drives. The new value SSDs from Plextor use Toshiba's TLC NAND flash memory chips produced using 15nm process technology that feature toggle DDR interface.
Plextor claims that its M6V solid-state drives fully support PlexTurbo intelligent RAM caching designed to improve performance beyond limitations of Serial ATA-6Gb/s interface. The company makes no claims about its TrueSpeed technology, which ensures that SSDs perform like new after prolonged period of active usage. Nonetheless, Plextor says that its new SSDs feature "excellent, stable performance and quality."
Traditionally, Plextor uses SSD controllers from Marvell, but for its value series of SSDs the company decided to use Silicon Motion's SM2246EN chip. While the controller is primarily aimed at inexpensive solid-state drives, select Plextor M6V SSDs feature performance that is higher compared to more expensive M6S SSDs. Moreover, Plextor's optimized firmware helped to boost IOPS performance of M6V beyond what is officially supported by the controller.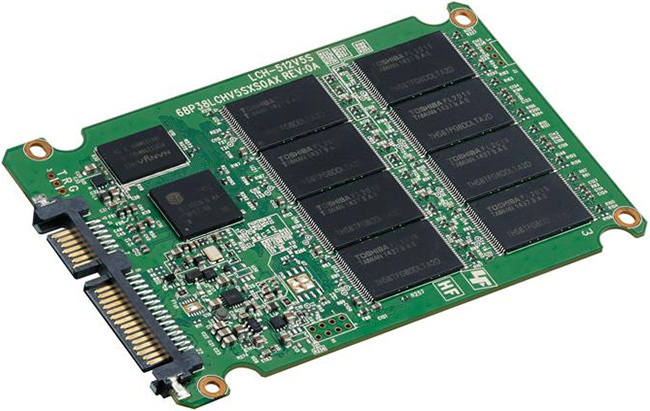 The Plextor M6V solid-state drives have a MTBF (mean time between failures) of 1.5 million hours and come with three-year warranty. The new SSDs are expected to hit the market shortly.
Select stores in Japan already offer Plextor's new drives: the 128GB model costs ¥6980 (£36, $56.5, €51), the 256GB drive is priced at ¥11580 (£60, $93.7, €85), whereas the 512GB model retails for ¥32180 (£166.6, $260.5, €236). Keeping in mind that Japanese prices are higher than those in the U.S. and Europe, expect Plextor's M6V to be really affordable.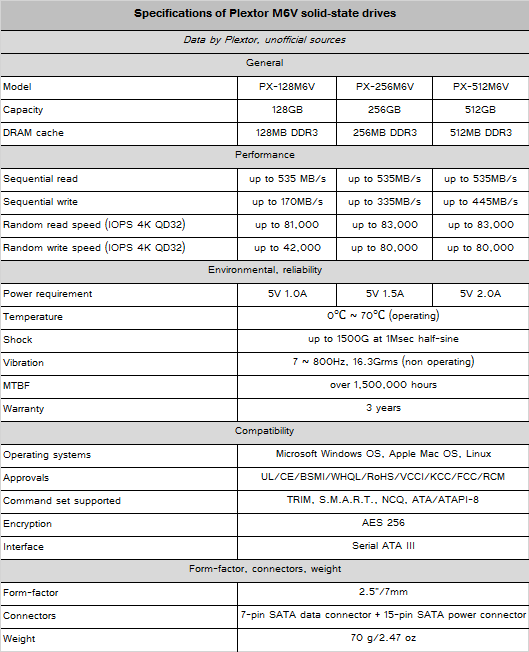 Discuss on our Facebook page, HERE.
KitGuru Says: A 256GB Plextor SSD for less than $100 in Japan? Sounds like a great deal! If Plextor's M6V features TrueSpeed technology and can guarantee maximum performance over prolonged periods of active usage, then it will be a bestseller among the value solid-state drives. If not, it remains to be seen (and tested) how good the Plextor M6V actually is.