Samsung Electronics announced this week that it has begun mass production of its SM951 solid-state drive. The new SSD uses M.2 form-factor and PCI Express 3.0 interface to deliver massive performance improvement over the vast majority of consumer-grade solid-state drives available today. Unfortunately, it is unclear whether Samsung's SM951 will be available in the channel or in the retail.
The Samsung SM951 is based on the company's own proprietary controller as well as high-performance MLC NAND flash memory made using 10nm-class process technology. The SSD comes in M.2 form-factor (80mm*22mm), weighs around six grams and features PCI Express 3.0 x4 interface (with up to 3.94GB/s of peak bandwidth). The SM951 can read and write sequentially at up to 2150MB/s and 1550 MB/s respectively. In addition, the new SSD's random read and write speeds reach up to 130,000 and 85,000 IOPS (inputs/outputs per second) respectively. The SM951 lineup consists of 128GB, 256GB and 512GB models.
To realize its full potential, the SM951 needs to be plugged into an M.2 slot that supports PCI Express 3.0 technology, or into a PCI Express 3.0 x4 slot via a special adapter. However, even when PCI Express 2.0 bus is used, the Samsung SM951 can read and write sequentially at up to 1600MB/s and 1350MB/s respectively.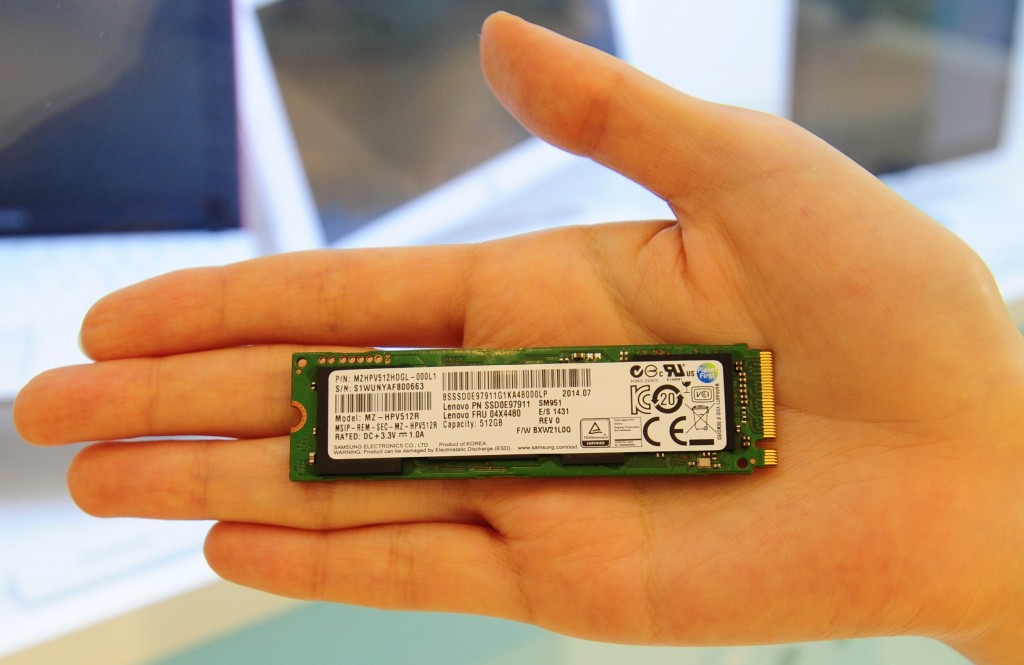 The Samsung SM951 is also the first SSD to adopt the L1.2 low power standby mode, which allows all high-speed circuits to be turned off when a PC is on sleeping or in hibernation. Thanks to the L1.2 level of standby operation, the SM951's power consumption is reduced to under 2mW in the aforementioned modes, about a 97 per cent decrease from the 50mW consumed using a L1 state.
"We are helping to accelerate growth of the ultra-slim notebook PC market with the introduction of this energy-efficient, high-speed PCIe SSD," said Jeeho Baek, senior vice president of memory marketing at Samsung Electronics. "We will continue to introduce next-generation high-density SSDs with improved performance and increased differentiation, as we further strengthen our business competitiveness in global SSD market."
The new SM951 solid-state drives are already available inside the new third-generation Lenovo ThinkPad X1 Carbon laptops. Unfortunately, Samsung's high-end client SSDs like the SM951 or the XP941 are not widely available in retail or in the channel.
Discuss on our Facebook page, HERE.
KitGuru Says: Hopefully Samsung changes its policy and will make the SM951 available on the open market this year. The move will not only force other makers to improve performance of their M.2/PCIe solutions, but will also catalyse them to lower prices on existing PCI Express SSDs. The latter are prohibitively expensive today, even despite of the fact that the vast majority of them do not offer performance that is as high as that of the SM951.