SanDisk introduced the world's first datacentre-class 4TB solid-state drives back in April, 2014. While the SSDs are available, SanDisk ships them to only one major customer today because clients, who require such high-capacity SSDs and can afford them need to qualify drives before deployment. But while 4TB SSDs are yet to become relatively popular, the company is already developing 6TB and 8TB solutions due next year.
The SanDisk Optimus Max 4TB solid-state drive for hyperscale datacentres is designed to replace 10K and 15K rpm hard disk drives and provide unique combination of high-density storage, SSD-class performance and support for SAS infrastructure. The drive was not developed with high performance in mind: it features sequential read/write performance of up to 400MB/s and can perform 75K or 15K random read and write input/output operations per second (IOPS).
At present SanDisk ships its Optimus Max 4TB solid-state drive to one of its OEM customers, whereas others are still qualifying the product. It is likely that the company will start to ship such drives in relatively high volume later this year.
"The Optimus Max SSD has become an important high capacity solution for one of our OEM customer's all flash array offerings," said Sanjay Mehrotra, chief executive officer and president of SanDisk, during the company's earnings conference call with investors and financial analysts. "Several other OEM and hyperscale customers are now qualifying our 4TB enterprise SAS SSD because they see the value of reducing their total cost of acquisition and ownership by utilizing this highest capacity solution."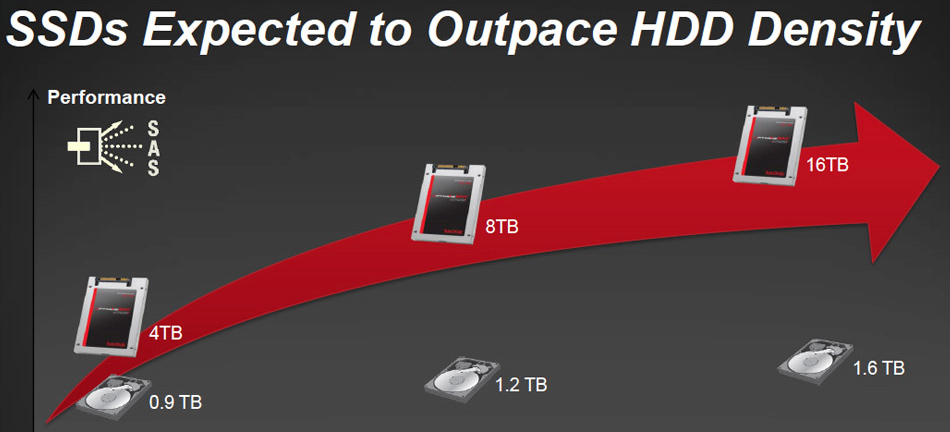 Last year SanDisk implied in an interview that it might introduce solid-state drives with 6TB and 8TB capacity already in 2015, but it the company now intends to release them only in 2016. The slight delay will hardly significantly affect SanDisk's financial performance because it takes a long time for its customers to qualify SSDs of such class.
6TB and 8TB solid-state drives are currently in development. The only thing presently known about them is that they will be based on Toshiba's multi-level cell NAND flash memory made using 15nm fabrication technology.
"We are developing our next-generation 15nm NAND flash-based 12Gb/s SAS SSD with higher capacity and performance," said Mr. Mehrotra. "We expect to introduce that solution to market in 2016 with revenue contribution starting in late 2016."
While 6TB and 8TB SSDs will continue to use MLC NAND, future hyperscale SSDs from SanDisk will rely on three-dimensional (3D) vertically-stacked BiCS NAND, which is more cost-efficient to produce and which provides higher densities, performance and reliability. 3D NAND will help to drive down per-gigabyte costs of SSDs to levels comparable with enterprise-class HDDs, SanDisk and Toshiba believe.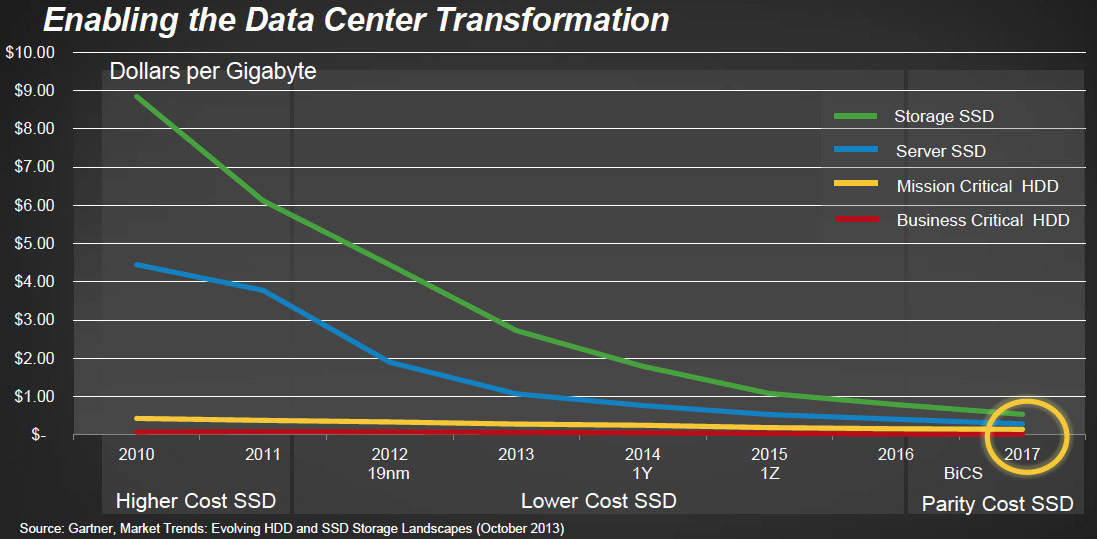 SanDisk expects total available market of enterprise-class solid-state drives to increase to $8 billion in 2018 from $4 billion in 2014.
Discuss on our Facebook page, HERE.
KitGuru Says: It is noteworthy that while SanDisk would like to replace high-performance enterprise-class hard disk drives with solid-state drives in the next several years, the company does not want to aggressively expand its NAND flash manufacturing capacities, unlike Samsung Electronics, who is adding capacities. Basically, SanDisk slowdowns decline of per-gigabyte costs of SSDs, which slowdowns transition of datacentres to solid-state storage.