SanDisk on Monday introduced its new solid-state storage solution designed for enterprise servers. The ULLtraDIMM solid-state drive comes in industry-standard DDR3 DIMM form-factor for servers and plugs directly into appropriate slots on mainboards for lowest latency and higher performance.
The SanDisk ULLtraDIMM SSD, which was developed in partnership with Diablo Technologies, can be incorporated into an existing DIMM slot, which ensures ultra-low latency in business programs and results in shorter application response times. Extra ULLtraDIMM SSDs can also be added to available DIMM slots, scaling performance and capacity without impacting latency. This creates new opportunities for server designs to support use cases that require extremely fast storage, such as high-frequency trading (HFT), VDI, transaction processing, virtualization and cloud computing.
The ULLtraDIMM SSDs are available in 200GB and 400GB capacities. They provide up to 1000MB/s read speed, up to 760MB/s write speed as well as 150K/65K read/write IOPS [input/output operations per second]. The drives feature advanced data protection technologies. SanDisk ULLtraDIMM SSDs are based on MLC NAND flash made using 19nm process technology.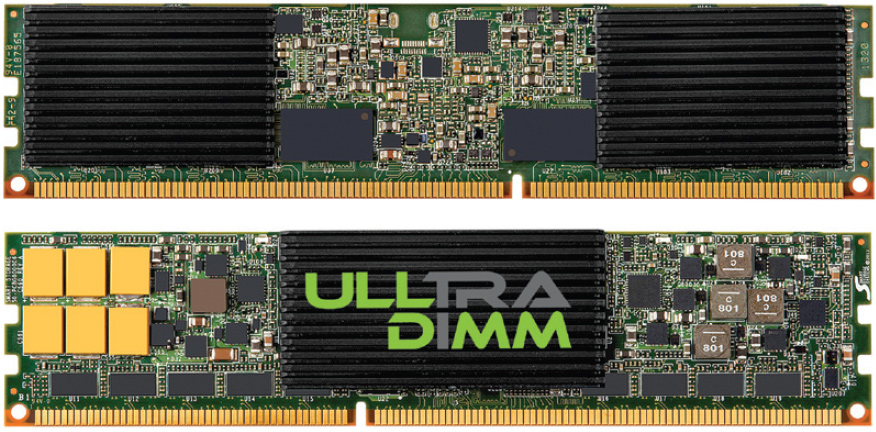 SanDisk's ULLtraDIMM SSD will be utilized by IBM under the eXFlash DIMM brand name. IBM recently announced that the eXFlash DIMM is an option for its System x3850 and x3950 X6 servers providing up to 12.8TB of flash capacity. IBM tested the solution under a variety of enterprise workloads and end-user scenarios. These early benchmarks showed that the eXFlash DIMM SSD achieved 5-10ms write latency – the lowest in the industry.
"The SanDisk ULLtraDIMM SSD was designed to expand the reach of ultra-low latency flash storage throughout the data center and scale to meet the requirements of any enterprise application, no matter how bandwidth or capacity intensive," said John Scaramuzzo, senior vice president and general manager of enterprise storage solutions at SanDisk. "The ULLtraDIMM  SD's linear performance scalability and innovative DIMM form factor allow organizations to deploy flash as their application requirements change, without requiring significant infrastructure investment."
KitGuru Says: Solid-state storage is rapidly expanding its presents in various types of servers and opens doors to brand new use cases.