For the first time in its long history, Crucial has announced it is to enter the portable SSD storage market with a new device. The Crucial X8 Portable SSD claims to deliver top performance at a competitive price.
Crucial, the brand behind Micron's memory and storage solutions has announced its entry into the portable SSD storage market, with its Crucial X8 Portable SSD. The crucial X8 claims to offer high-performance with read speeds up to 1,050MB/s, which is 1.8 times faster than similar portable SSD devices in the same price category and up to 7.5 times faster than portable HDDs.
The Crucial X8 Portable SSD is compatible with PC, MAC, PS4, Xbox One, iPads, Chromebooks and a range of other Android devices via a USB 3.2 Gen2 interface. X8 Portable SSD claims to offer a range of other benefits including Fast transfer times, high capacity for storing photos, videos, documents and providing simple to use additional storage for console gamers.
"Now, more than ever, consumers want unfettered access to their important data," said Teresa Kelley, vice president and general manager of Micron Consumer Products Group. "With the advent of faster computers, widespread photo sharing and larger game sizes, it's time to evolve to faster, more reliable storage solutions. The Crucial X8 leverages the unparalleled quality and vertical integration of Micron to provide unmatched value for our customers."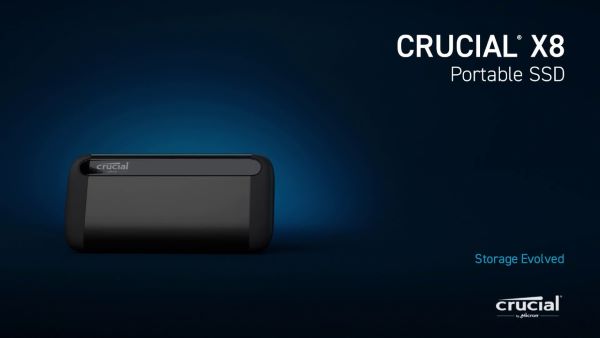 All Crucial SSDs are built using NAND from Micron, which is one of the largest flash storage manufacturers in the world. Crucial claims its SSDs undergo thousands of hours of Micron testing and validation before hitting the market, to ensure reliability and durability for consumers.
The Crucial X8 Portable SSD is drop-proof up to 7.5 feet and is backed by a three-year limited warranty. The X8 Portable SSD is available in capacities of 500GB or 1TB from the Crucial web store. The X8 500GB can be purchased from Crucial priced at £117.59 with the 1Tb version priced at £160.79.
KitGuru says: If you are looking for a high-performance portable storage drive, it may be worth checking out at the new X8 SSD series from Crucial. It would certainly offer quick access to a console gamers library for sure.