With Samsung already producing some of the best high performance SDDs to date, you could be forgiven for thinking they couldn't possibly get any better. Fortunately, the launch of PCIe 4.0 and some of Samsung's own technology upgrades means that there is still room to grow. Samsung has a new series of PCIe 4.0 SSDs coming up soon, which also aim to be fail-proof.
Samsung's new PM1733 and PM1735 series of SSDs span across 19 different models covering HHHL PCIe and 2.5″ U.2 form factors with capacities ranging from 800GB all the way up to 30.72TB. The capacities are impressive on their own, but Samsung also claims that these SSDs will continue to work even if a NAND chip fails. This is achieved through Samsung's 'fail in place' (FIP) technology, which uses software to ensure SSD drives maintain normal operation even when errors occur at the chip level. In the past, failure of just one NAND chip on an SSD meant that the whole drive had to be replaced but with Samsung's FIP software, you can check the SSD for errors, scan for damaged data and then relocate that data to a working chip.
You probably will want to replace an SSD with failing NAND eventually, but at least with this new technology, you will get a heads-up before hand and have the opportunity to recover data and avoid system downtime.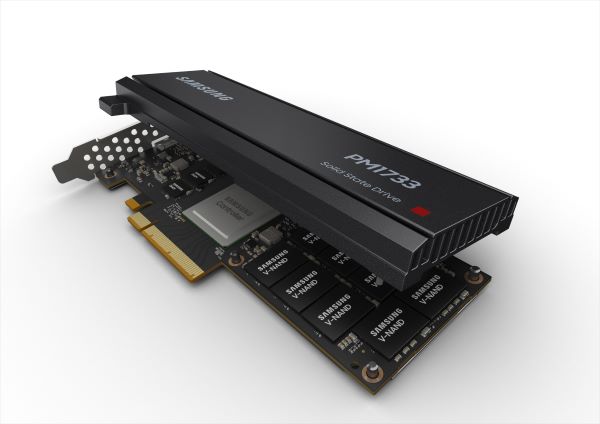 These new SSDs all use the PCIe 4.0 standard, which means sequential read and write speeds are substantially improved. Samsung boasts 8GB/s read speeds and 3.8GB/s write speeds for these SSDs, while random read/write speeds will measure in at 1,450,000 IOPS and 260,000 IOPS respectively.
Due to the form factors and capacities in use here, these SSDs are primarily going to be aimed at business, enterprise and data centre markets rather than enthusiasts. However, this level of performance will eventually trickle down into consumer-grade drives.
Other improvements include an upgrade to Samsung's SSD virtualisation technology, which allows a single SSD to be split up into a maximum of 64 smaller SSDs to provide independent virtual machines for workspaces.
Production has begun on these SSDs but there is no official word on a release date or pricing just yet- we will be keeping an eye out for an update on that front though.
KitGuru says: These new SSDs from Samsung could be the most interesting drives we've seen in a long time. Not only are the speeds super high, but this new 'fail in place' technology could also be a huge improvement for SSD reliability and data recovery. What do you all think of Samsung's latest SSD announcements?