This week during the China Flash Memory Summit, Kioxia gave us a glimpse at the future of SSDs. While PCIe 4.0 is still relatively new, SSD makers are already working on PCIe 5.0 drives, and Kioxia's prototype is already capable of hitting very impressive speeds. 
Photos of Kioxia's event posted to WeChat (via Wccftech) shows the PCIe 5.0 SSD prototype offers a 103% increase in sequential read speeds over the Kioxia CM6 (PCIe 4.0), jumping from 6,900MB/s to 14,00MB/s. As for sequential write speeds, the PCIe 5.0 SSD prototype comes with a 67% increase, from 4,200MB/s to 7,000MB/s.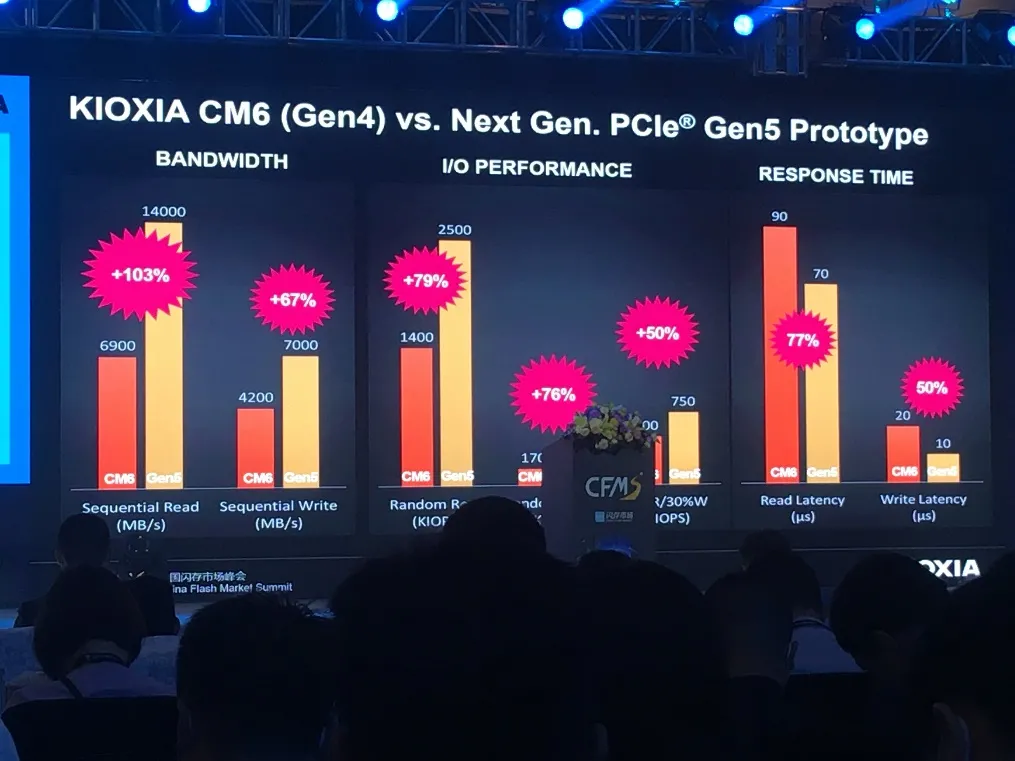 I/O performance on the PCIe 5.0 prototype also improved significantly compared to the Kioxia CM6, increasing by about 68% on average. Moreover, operating latency is lower on the prototype, which is 20μs faster on reads and 10μs faster on writes.
During the presentation, Kioxia also stated that its first PCIe 5.0 SSD will be aimed at server and data centre usage and is expected to release later this year. Kioxia's PCIe 5.0 SSDs will come in a 2.5-inch EDSFF E3S form factor and will be available with up to 30TB storage capacity.
KitGuru says: Kioxia's plans may only cover the data centre/server-side of things for now, but we expect to see a similar level of performance in consumer-grade PCIe 5.0 SSDs when the time comes.