OWC has developed the fastest PCIe SSD ever – the Accelsior 8M2. This SSD will come with up to 64TB of storage capacity and makes full use of PCIe 4.0 bandwidth to enable maximum speeds of 26,000MB/s.
Inside the OWC Accelsior 8M2, you can fit up to 8x NVMe M.2 SSDs running on 4x PCIe lanes to maximise throughout, giving users a world of possibilities, reaching transfer speeds as high as 26,000MB/s. Compatible with macOS 11 Big Sur, Windows and Linux machines, the Accelsior 8M2 connects via an M.2 or a U.2 connector.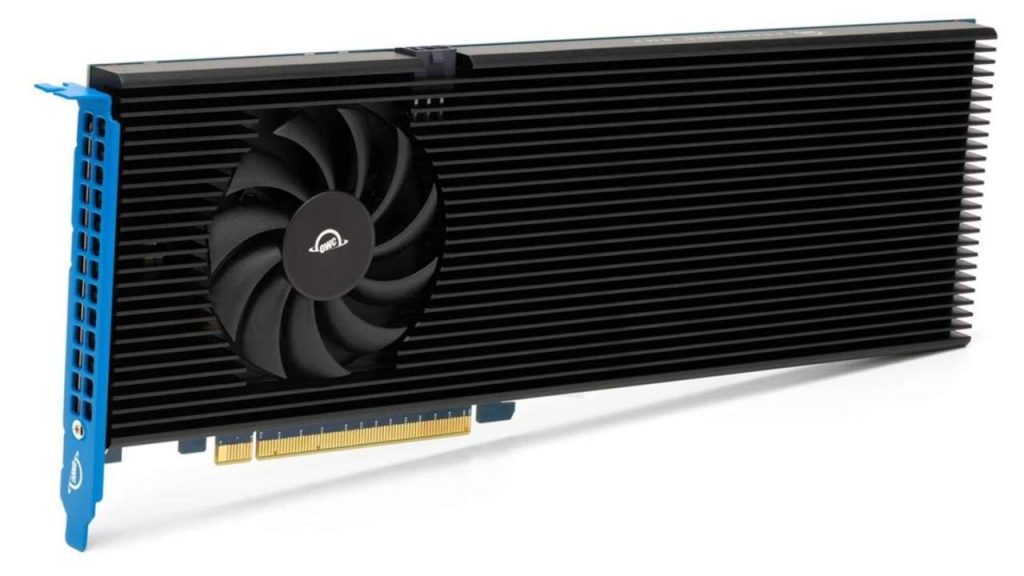 To handle the heat generated by the NVMe drives, OWC includes a single-slot black heatsink covering the whole card and a fan to cool it off. If the user needs extra power for the drives inside, there's a 6-pin power connector for that.
As per OWC, this SSD allows users to edit and playback 16 streams of 8K ProRes444 without hiccups, as well as handling other storage-intensive workloads. In Mac systems, the Accelsior 8M2 supports RAID 0/1/4/5/1+0 (10), but on Windows, it's limited to RAID 0/1. OWC recommends users use SoftRAID XT to create the RAID environments, optimise drive performance and protect data.
The OWC Accelsior 8M2 is now available for purchase without drives for $799.99. However, you can also get it with 2TB, 4TB, 8TB, 16TB, 32TB and 64TB of storage capacity using OWC Aura P12 Pro PCIe 3.0 SSDs. These models start at $1,299 for the 2TB model, up to $12,999 for the 64TB model.
KitGuru says: It's not every day we see a PCIe SSD capable of reaching 26,000MB/s speeds. What do you think of the OWC Accelsior 8M2?