OCZ issued us a challenge – to stress test 5 ARC 100 Solid State Drives until they kick the bucket. OCZ hope they will all pass their 22TB warranty limit without a problem. The original story on this is viewable over HERE.
We have a new update today, two of the five ARC 100 drives have passed the 22TB warranty limit already – without failure.

Watch via our VIMEO channel (below) or over on YOUTUBE.

If you want some background on this update today, then head to this page and see our original post.
Our quest to flog five OCZ ARC 100 SSDs to death is underway, using a test system that consists of :
Antec ISK 600M case
Asus Z87-I Pro Mini-ITX motherboard
Intel Pentium Anniversary G3258
Noctua NH-L12 cooler
Corsair LP DDR3 memory
Sapphire HD 7770 graphics
Intel 320 SSD boot drive
Seasonic M12 II 520W PSU
64-bit Windows 7 Pro
It's a cool and quiet system that draws about 70W at the mains plug.
In the event that OCZ issues a firmware update for these drives then I may need to run the update. Time will tell on that score, but to be on the safe side I have signed up to OCZ's email service for notification about firmware updates for ARC 100, which is a neat idea.
The software we are using is Anvil's Utilities, and while the benchmark is familiar this is our first experience of the Endurance Test which is specifically intended to drive SSDs until they die.
Anvil's isn't happy about running on multiple drives simultaneously however we already have two drives (G and H) that have made it past the 22TB mark so hurrah, they have already fulfilled their warranty.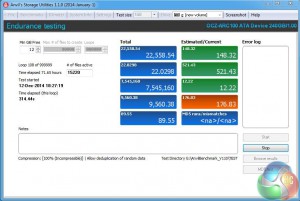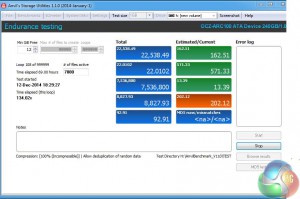 According to SMART data those two drives still have 91 percent of their life remaining.
Once we have all five drives up to 22TB we will continue pushing them until they die – and will report back here!
Discuss on our Facebook page, over HERE.
Kitguru says: So far, so good. We will be back soon with more updates.