Back in 2019, we heard rumblings from a few sources that the current batch of super-fast PCIe 4.0 SSDs were just the beginning. We were told at the time that a next-gen Phison SSD controller was already in the works, which would push beyond the 5,000MB/s speeds we are currently seeing. That next-gen Phison controller is known as the E18 and it is officially ready for prime time.
Phison announced its PS5018-E18 NVMe SSD controller today, a step above the E16 controller currently found on many PCIe 4.0 SSDs. The new controller is designed on the 12nm process node and will enable sequential read and write speeds of up to 7,000MB/s, another huge speed boost. Beyond that, this controller will also support capacities up to 8TB.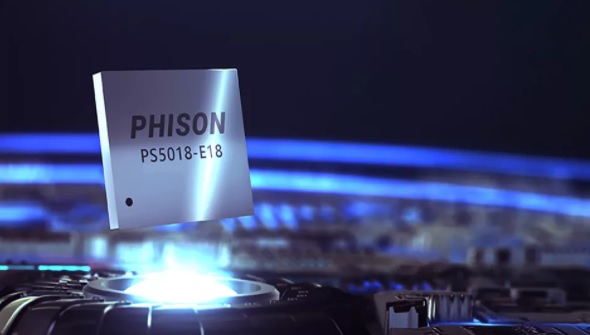 As you might expect, these speeds will only be possible via PCIe 4.0, so you will need a motherboard that supports that. Currently, only AMD's X570 motherboards utilise PCIe 4.0, although we should see Intel make the jump soon too.
Don Jeanette, Vice President of SSD Research at TrendFocus, had this to say about Phison's E18 SSD controller announcement: "It is forecasted that over the next few years, PCIe Gen 4 will lead in the client SSD market. Phison was one of the first to ship a Gen 4×4 SSD and has a leadership position in providing customers the best-in-class SSD for high-performance client and desktop applications and gaming".
The first E18 equipped SSDs should begin popping up very soon. Phison has been working on the E18 for a long time now, with us first hearing about its capabilities last year.
KitGuru Says: Are many of you looking to make the jump to an even faster PCIe 4.0 SSD? Will you be waiting for new SSDs featuring Phison's new controller for maximum performance?