Last month, Samsung confirmed that its 840 EVO SSD suffers from a bug that cripples read speeds when old data is present on the drive. The company promised to fix the problem with updated firmware and has finally made the fix available.
For those of you that missed it the first time around, the 840 EVO had a problem that caused the read performance of old blocks of data to drop dramatically and the reason people hadn't discovered this bug sooner is because it only affects LBAs that contain old data, which is classed as anything over 30 days.
Here's a graph showing how read speeds would plummet once old data was found on the drive:

Source: @P_Combe
Since Samsung's acknowledgement of the bug, it has been working hard to issue a firmware update. According to Tech Report, fixing the problem is a two part process managed by Samsung's performance restoration tool, first the utility flashes the SSD's firmware with the new EXT0CB6Q revision, then it reboots the system and completes the restoration process.
The process is non-destructive, so it shouldn't corrupt any data on the drive and it only needs to be ran once, although the drive needs to have at least 10 per cent free capacity in order to work. This whole process fixes how the EVO responds to voltage changes.
We don't have an old Samsung 840 EVO filled with old data knocking around but as you can see, once Tech Report applied the fix, read speeds were performing as normal: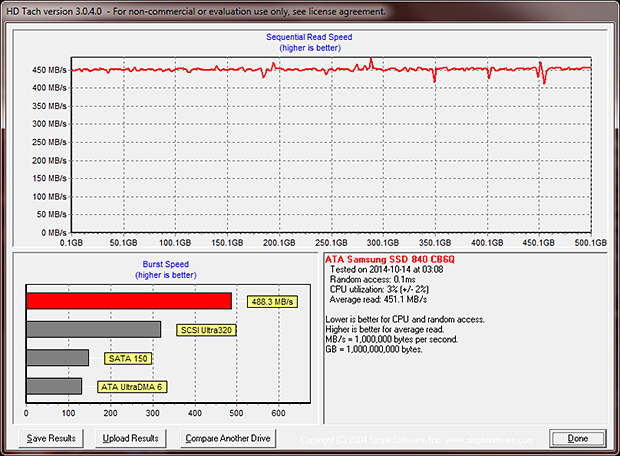 If any of you guys have an 840 EVO SSD and have been experiencing slow read speeds with older files, then you can download the fix, HERE. An installation guide can be found, HERE. The restoration tool is currently only available for Windows users.
Discuss on our Facebook page, HERE.
KitGuru Says: Hopefully all 840 EVO owners who have experienced slow read speeds will be able to find this fix and get it patched up. At least Samsung was quick to respond to the situation once the issue came to light. How many of you guys use a Samsung 840 EVO? Have you been experiencing slow speeds at all? Let us know if the restoration tool fixes your problems.
Source: Tech Report