Back in August, we learned that Samsung had officially begun mass production for its 4-bit, MLC-NAND equipped SSDs, which are tipped to make higher capacity SATA drives cheaper than ever. Now, a few months later, Samsung has officially launched the 860 QVO series, which comes in 1TB, 2TB and 4TB flavours, with prices set to start at just $150.
Back in August, Samsung's VP of memory sales and marketing, Jaesoo Han, explained that this new 4-bit SATA SSD will "herald a massive move to terabyte-SSDs for consumers", given that the MSRP for the 1TB 860 QVO is $149.99, that statement may well hold true. We don't have pricing for the 2TB of 4TB models just yet, but those will be arriving a bit later, while the 1TB version will start shipping in December.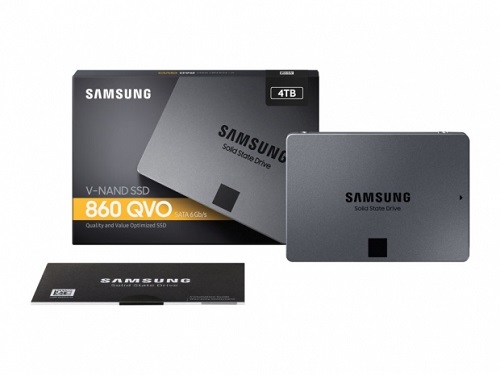 Performance won't set the world on fire, as we are still limited to 6Gbps SATA. Buyers can expect up to 550 MB/s for sequential read speeds and up to 520MB/s for sequential write speeds. Each SSD should last a good while too, the 1TB QVO SSD is rated for 360TB total bytes written, the 2TB is rated for 720TB and the 4TB model is rated for 1,440TB. Each SSD also comes backed by a three-year warranty.
KitGuru Says: $150 for a brand new 1TB SSD seems like a great deal and will hopefully push the industry towards higher capacities at lower prices. Are any of you still waiting on high capacity SSDs to come down in price? Do you think you'll jump on one of these if the prices can remain low?