Back at CES, we had the chance to catch up with Patriot and its subsidiary, VIPER Gaming. While we were roaming the booth, we caught a sneak peek at the Viper VPN100, a new NVMe PCIe Gen 3 SSD with capacities between 256GB and 2TB. Now, just a couple of short months later, this SSD is hitting the market.
Sometimes it can take several months or even years for CES products to finally hit store shelves. This is not the case with the Viper VPN100. The M.2 SSD is available from now, promising super fast speeds, better heat dissipation and high capacities.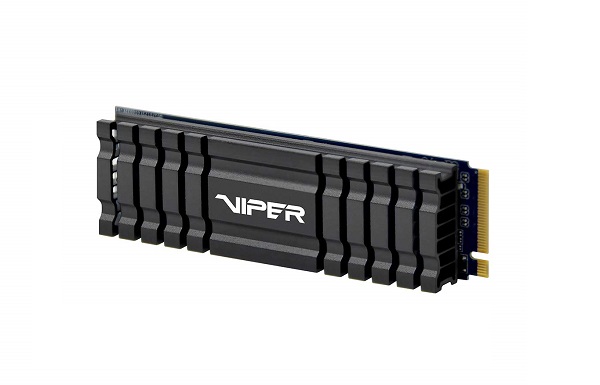 The VPN100 is built using the Phison E12 PCIe Gen 3×4 NVMe controller and comes with its own pre-installed aluminium heat shield to keep it operating at peak speeds for longer periods of time. There is also an external thermal sensor, so you can keep a better eye on temperatures.
Using the 1TB version as the lead example for performance, buyers can expect up to 3,000MB/s write speeds and up to 3,450MB/s read speeds. The random read/write IOPs rating comes in at 600K, so this SSD has massive throughput capabilities.
The VIPER Gaming VPN100 SSD will come in 256GB, 512GB, 1TB and 2TB options. We don't have UK or EU pricing just yet, but over in the US, these will cost $79.99, $137.99, $244.99 and $499.99 respectively.
KitGuru Says: I'm running a 512GB Samsung 960 Evo at the moment but I've been looking into getting something with a bit more space. Are any of you looking to make a big SSD upgrade this year? How much would you be willing to spend on a 2TB M.2 SSD?