Intel's Optane Memory H10 is at the time of writing only available as an OEM part, so the 512GB review sample that Intel supplied for this review, came installed in a HP Ultrabook. Ultrabook's and small form factor PCs are the more likely retail platforms that will be a home for the H10.


The HP Spectre x360 13" notebook (Intel Core i7-8565U backed by 16GB of memory) is what we used to test both the H10 and the 512GB SSD 760p Intel supplied to compare it against. We tested both and also tested the H10 with the Optane memory disabled to show the difference is any it makes.
Intel Rapid Storage Technology (Intel RST)
Intel's Rapid Storage Technology (RST) software makes it easy to configure and to keep an eye on the H10.

It's easy to enable or disable the Optane memory using the RST technology with a few mouse clicks. Once the software has enabled the changes, it just needs the system to be restarted for the changes to come into effect.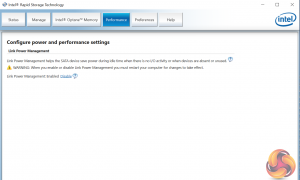 The Intel Optane Memory tab opens a window where you can enable/disable Optane Memory as well as selecting which programs/files/folders you want to be accelerated.