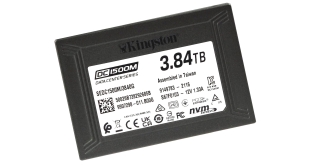 Designed to replace the DC1000M for mixed-use workloads in data centre environments, Kingston's DC1500M uses a Gen 3.0 x4 NVMe PCIe interface to deliver high throughput with low latency via a U.2 connection.
The DC1500M comes in four capacities to cover most data centre needs; 960GB, 1.92TB, 3.84TB (the drive we are reviewing here) and the flagship 7.68TB model. The drive uses a Silicon Motion SMI 2270 16-channel controller combined with BiCS4 96-Layer 3D TLC NAND.
Kingston quote performance figures for the DC1500M series as up to 3,100MB/s for Sequential reads for the 960GB, 3.84TB and 7,68TB drives with the 1.92TB drive the fastest in the range at 3,300MB/s. Sequential writes are listed as up to 2,700MB/s across the range with the exception of the 960GB drive which is rated at 1,700MB/s.
4K Steady State read performance is listed as up to 440,000 IOPS for the 960GB drive, 510,000 IOPS for the 1.92TB model and up to 480,000 IOPS and 420,000 IOPS for the 3.84TB and 7.68TB models respectively. As for random writes, the 960GB drive is the slowest at 150,000 IOPS, next comes the 7.68TB drive at up to 200,000 IOPS, the 3.84TB drive is rated at up to 210,000 IOPS and the fastest is the 1.92TB drive at up to 220,000 IOPS.
Power consumption for the 3.84TB drive is quoted as 6.80W idle, 6.40W for average reads (6.63W maximum reads) and 14.20W for average writes (16W maximum writes). As you should expect from a drive aimed at data centre usage, it comes with enterprise-class power loss protection in the shape of power capacitors.
The drive has an endurance rating of 1 DWPD (Drive Writes Per Day) over the length of the 5-year warranty Kingston backs the drive with.
Physical Specifications:
Usable Capacities: 3.84TB.
NAND Components: BiCS4 96-Layer 3D TLC NAND.
NAND Controller: Silicon Motion SMI 2270 16-channel.
Cache: DDR4.
Interface: NVMe PCIe Gen 3.0 x4 / U.2.
Form Factor: 2.5″ x 15mm
Dimensions: 100.09 x 69.84 x 14.75mm.
Drive Weight: 155g.
Firmware Version: S67F0103.
Be sure to check out our sponsors store EKWB here