Patriot's Hellfire comes in a simple no frills blister pack with a panel on the front of the pack displaying drive capacity and interface details. The rear of the pack displays brief multilingual descriptions of the drives features.

The front side of the PCB has all the components hidden under a sticker. Once removed the main contents of the drive are revealed, there are two Toshiba 15mn 64GB MLC NAND packages (labelled TA79G5NAUR), a Phison PS5007-E7 controller and a 256MB DDR3L-1600 cache IC (Nanya NT5CC128M161P). Another two 64GB NAND packages are housed on the reverse side of the PCB.
The 8-channel PS5007-E7 uses a quad core CPU and is Phison's first NVMe controller. It has a PCIe Gen 3.0 x 4 interface and supports 1z nm MLC, TLC and 3D NAND and has a feature set that includes SmartECC, SmartRefresh and SmartFlush technologies.
SmartECC reconstructs faulty pages due to ECC failures, SmartRefresh monitors ECC health status and refreshes ECC blocks periodically which improves data retention and SmartFlush cuts down the amount of time any data is spent in cache which helps to ensure maximum data retention should the drive suffer a power loss.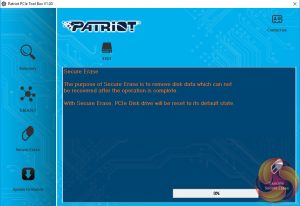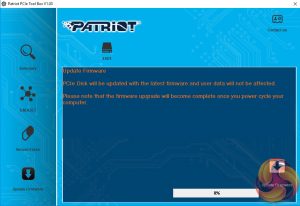 Patriot's SSD management software, the Patriot PCIe Tool Box (v1.00) looks a pretty basic utility compared to some of it competitors offerings but it really does offer all you really need to keep an eye on your drive.
It shows information on firmware version, serial number, total capacity and the power-on time, if TRIM is enabled and SMART data. It also allows the secure erase of the drive and updating of the drives firmware.