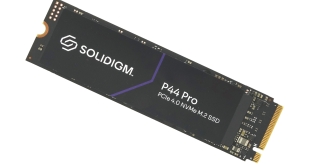 We recently took a look at the first Solidigm-branded SSD, the P41 Plus, and now we have the second one in our hands, the P44 Pro. This is a much more capable drive and the company's current flagship Gen 4 client SSD, with the 1TB model on sale in the UK for around £120.


Like the P41 Plus, the P44 Pro comes in three capacities; an entry-level 512GB, 1TB (the drive we are reviewing here) and a flagship 2TB model but there the similarity ends as the P44 Pro is a completely different beast to the P41 Plus. The P41 Plus uses a DRAMless design 4-channel controller paired with 144-layer 3D QLC NAND, the P44 on the other hand uses a full-blown eight-channel controller paired with 176-layer 3D TLC NAND.
Performance-wise, Solidigm rates the Sequential read/write of the 1TB version of the P44 Pro as up to 7,000MB/s and 6,5000MB/s respectively. That 7,000MB/s read figure covers the whole range. Write speeds for the other two drives are up to 4,700MB/s for the 512GB entry-level model and up to 6,500MB/s for the 2TB drive, the same as the 1TB drive.
When it comes to 4K random performance the 1TB and 2TB drives get the same ratings for reads and writes; 1,400,000 IOPS and 1,300,000 IOPS respectively. The 512GB model is rated at up to 960,000 IOPS for reads and 1,000,000 IOPS for writes.
The endurance of the 1TB drive is rated at 750TBW, incidentally, the 512GB drive is rated at 500TBW and the 2TB 1,200TBW. Solidigm back the P44 with a 5-year warranty.
Physical Specifications:
Usable Capacities: 1TB.
NAND Components: SK hynix 176-layer 3D TLC.
NAND Controller: SK hynix ACNS075 8-channel.
Cache: SK hynix LPDDR4.
Interface: PCIe 4.0 x4, NVMe 1.4.
Form Factor: M.2 2280.
Dimensions: 80 x 22mm.
Drive Weight: 7g.
Firmware Version: 001C.
Be sure to check out our sponsors store EKWB here