The AN1500 comes in a stout box with an image of the drive on the front. Under the image to the left are the name and the fact it is an NVMe SSD add-in-card and it works in a desktop PC. This information is repeated in French. To the right is the drives capacity and the sequential speed rating, again this information is repeated in French.
The rear of the box has another image of the drive from a different angle. Some of the drives features are labelled on the image and to the side is a box contents list. As with the front of the box, everything is repeated in French.

WD's AN1500 is built on an HHHL (Half-Height, Half-Length) AIC (Add-in-card) format. Both side covers of the drive are made from aluminium which act as heatsinks which are needed considering there are two fast SSDs together with a RAID controller lurking on the PCB so it's going to get a little toasty. Internally the AN1500 uses a pair of WD's PC SN730 NVMe SSDs which are built-in a RAID 0 array controlled by a Marvell 88NR2241 IC.

The RGB lighting system uses 16 LEDs which have a diffused cover on the top edge of the drive.

WD's revamped SSD Dashboard (v3.1.25 supports the AN1500) is about as comprehensive an SSD management utility as you'll likely to find. It displays information on drive temperature, life remaining and a whole lot more including a live performance monitor. There isn't any cloning utility incorporated into the dashboard but WD supports the AN1500 with Acronis True Image WD Edition which can download from WD's website.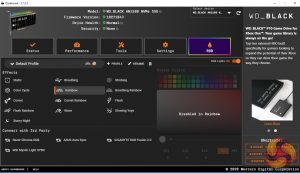 Then, of course, there is the control page for the RGB lighting system which has 13 basic pattern effects with options to tinker about with the colours being used. It is also compatible with the most common of the motherboard RGB systems out there; MSI's Mystic Light Sync, Asus' Aura Sync and Gigabyte's RGB Fusion.