The My Passport SSD comes in a smart yellow and white finished box with a image on the drive on the front together with a panel displaying its capacity, drive performance, length of warranty, its ability to survive being dropped and icons representing WD's backup and Security utilities.  The rear of the box has some multilingual marketing data about the drive along with list of what's in the box and the drives compatibility.

The pocket sized My Passport SSD small enough to fit in the palm of the hand and it looks good too with a plastic case that is split 50:50 between plain black and a metallic finish. But beware, this metallic finish is a fingerprint magnet and will need constant cleaning to keep it looking smart. The drive has been built to withstand a drop of 1.98m.

Bundled in with the drive is a USB-C cable together with a useful USB Type-C to Type-A adapter and a quick install guide.
Pre-installed on the drive is WD's Discovery software. This gives you access to WD Drive Utilities app as well as options to install WD's Security and Backup Utilities. It also offers a choice of 3rd party apps to download to either try or buy, including Acronis True Image, Plex, easet DriveSecurity – antivirus for external drives and Blancco File Eraser.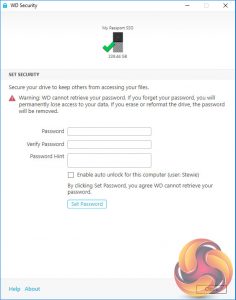 WD's Drive Utility enables status checks to be run on the drive along with two drive scans (Quick and Complete). Data on the drive can be permanently erased using the Drive Erase option.
WD Security utility allows the implementation of hardware encryption (the drive has 256-bit hardware encryption built in) and password protection on the drive.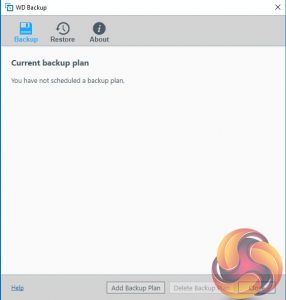 WD Backup allows the easy setting up of backup and restoration plans for backing up of data.