I have had many great experiences in the past testing Patriot Solid State drives, including the now iconic Pyro and Wildfire. The 120GB Wildfire drive I reviewed has actually been in one of our older server systems since we published results back in August 2011. So far it has delivered over 500TB of data, and it is still going strong.
When we were offered a new Ignite 480GB to review I jumped at the chance, because for all intents and purposes Patriot have been 'MIA' for quite some time, focusing all their efforts into devices for the mobile sector. It is good to see them back in action in the enthusiast sector.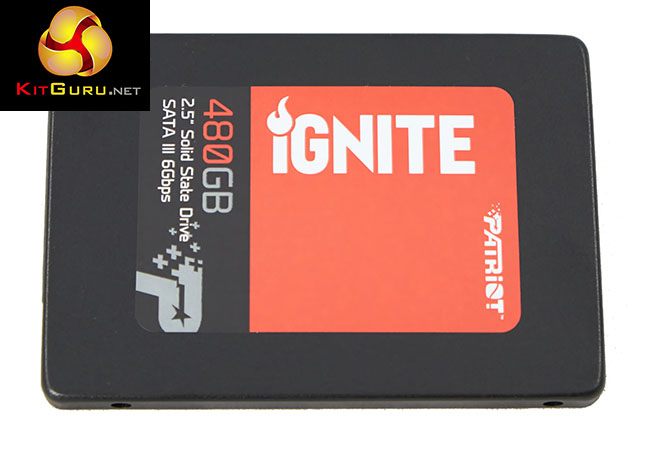 The Ignite 480GB is a high performance drive which deals with both compressible and incompressible data very well. Asynchronous NAND is an unusual choice (as many are now using A19 Toggle), although it is clear to see that the latest 16nm Micron NAND is very capable. Overall IOPS performance is also noteworthy.
The Ignite doesn't really exhibit any noticeable weaknesses and our real world tests as a Windows 8.1 boot drive verify that this is a snappy, high performance product. Even though there are only 480GB and 960GB capacities available the Ignite is therefore particularly suitable for file storage and backup, or for use as a high performance STEAM game drive.

Right now the drive is not available in the United Kingdom, although Patriot have assured me that availability is on the horizon. They are working with Amazon and EBuyer to stock the Ignite, Blaze and Torch series of drives. Patriot say the Ignite 480GB will be listed around the £149.99 price point. The ever popular Samsung Evo 840 has recently been reduced in price to £164.00 inc vat, so Patriot seem to be aware of the competition and are targeting accordingly.
Discuss on our Facebook page, over HERE.
Pros:
solid all round compressible/incompressible performance.
good IOPS performance.
Extensive ECC feature set.
AES 256 bit encryption support.
Cons:
facing stiff competition under £200.
Kitguru says: It is good to see Patriot back in action in the SSD sector. The Ignite 480GB delivers excellent performance and pricing looks competitive.