One of the biggest gaps between the Oculus Rift and HTC Vive is about to be closed with the launch of Touch motion controllers in the next few days, but camera set up guides suggest the Rift will always fall behind the Vive in terms of roomscale tracking. Even with three cameras, it is only capable of up to a 2.5m x 2.5m tracking space.
While this writer has been restricted to a 2m x 2m space for the majority of his home-VR roomscale experiences, there are many gamers around the world with bigger open spaces to explore virtual worlds in. The Oculus Rift however has had a much more restricted tracking solution since its release, something that we noted during our review.
While that should improve by leaps and bounds with Touch controllers and the added second camera, Oculus guidelines suggest that will only deliver as much as a 1.5m x 1.5m play area. This, despite the fact that sensors need to be set up on opposing room corners, at least three metres apart. The same is true for three cameras, with two front facing – you still only have a 2.5m x 2.5m play space and requires a larger room too (thanks UploadVR).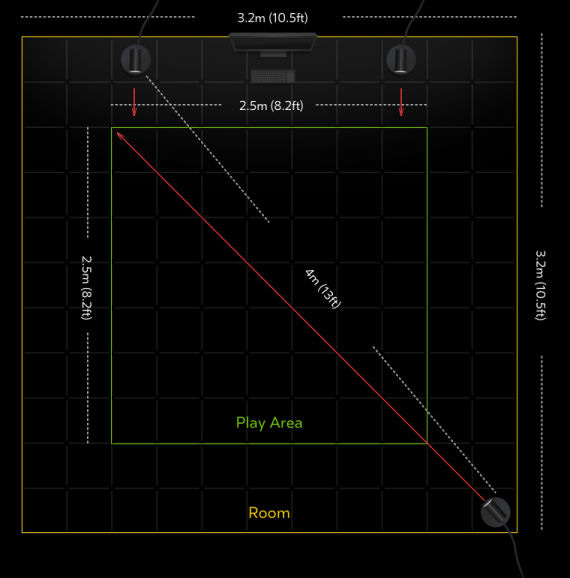 Of course this is perfectly large for many roomscale experiences and should offer great motion tracking within it – but it's still a far cry from what the Vive can do right out of the box. Those twin laser trackers mounted above head height in opposing corners, can track play spaces as big as 4m x 4m without much difficulty.
In comparison, the Rift doesn't seem capable of that, despite pushing for a third camera which is an additional purchase on top of the Touch controllers. You also need to factor in USB connections for all of the cameras.
We'll need to wait for the release of Touch to find out for sure, but it remains the case that if you want a roomscale VR experience, the most versatile (and arguably cheaper) hardware is the HTC Vive.
Discuss on our Facebook page, HERE.
KitGuru Says: It seems like as more time goes on, that Oculus was really caught out by the sudden emergence of the Vive. As much as I think it made a great headset, it just isn't as good as the alternative.