Update: We've spoken with registered optometrist, Simon Matthews MCOptom BSc(Hons) FBDO CL, who tells us that from the photo the swelling looks to be an "oedema" of the lids, which is more likely to be caused by an allergic reaction than an infection or pressure from the headset itself.
He told us that the most likely cause for this would be pet hair getting into Clark's eye and that the swelling would likely go down within a week without any problems.
KitGuru Says: Of course we still hope Clark gets his eye looked at in person by a doctor of some kind, but it's good to know that VR headsets are unlikely to turn us all into fluid filled, face-sacks any time soon. Thanks to Simon for reaching out.
Original Store: VR headset users who find themselves drifting off in virtual worlds beware, one user who reportedly used his for sleeping several nights on the trot, has woken to find himself with serious eye swelling. It's not clear if the headset rested oddly on his face, or if it was the repeat usage, but it's worth knowing for any intrepid VR explorers.
Paul "Gooboberti" Clark has been using his VR headset for a while now and this week began recreating his real world inside the AnyLand VR landscape creator, which lets you build and interact with whatever you want in VR. However after a couple of hours of building and modelling in the evening, Clark has also been sleeping there, in a virtual sleeping bag, on a virtual sofa – though also in that same position in the real world.
This lead to some strange instances of being woken up in VR, by his VR friends.
[yframe url='http://www.youtube.com/watch?v=ed-UW1Yd-2U']
However it also seems to have lead to serious eye swelling, as reported by Clark himself on the AnyLand Facebook page.
"This is day 6 of me waking up in Virtual Reality after a long modeling and animation session within the pocket universe assigned to me by Anyland," he said. "Every night this past week I spent at least 8-11 hours straight in VR (including time leading up to my slumber to the actual sleep period). I started having negative facial effects around day 2. Here is a picture of my face from this morning, right after I took the goggles off."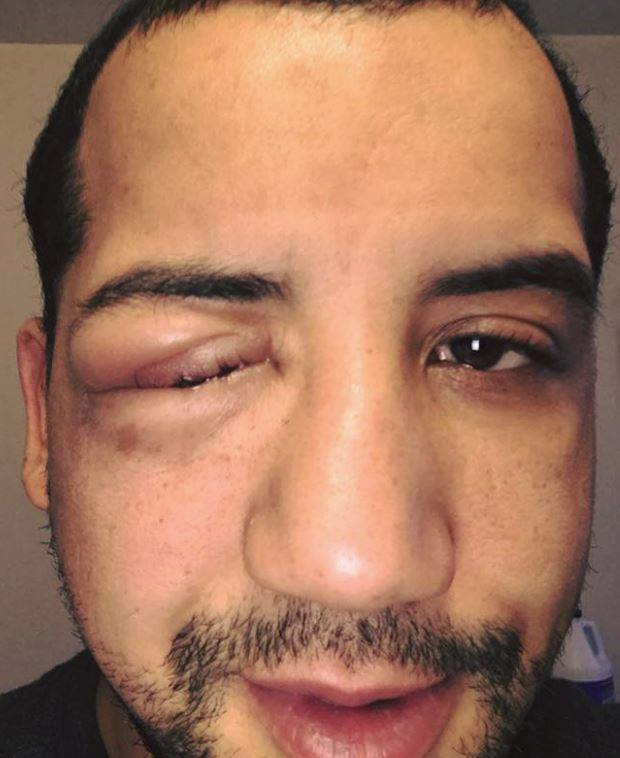 Source: Paul Clark/Facebook
To its credit, AnyLand developers did encourage Clark to visit a doctor when this news emerged and released a message on their Facebook page to discourage people from sleeping with their headset on.
Discuss on our Facebook page, HERE.
KitGuru Says: Consider this our PSA guys. Be careful sleeping in VR. Maybe wait for a second or third generation headset that are a little lighter on the face.