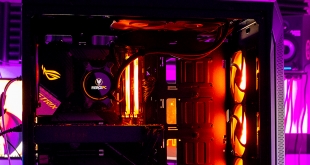 Today we're looking at a pre-built system from Fierce PC. Using some of the latest hardware from AMD, this PC is named the Shuriken "so the user can use the power of this PC to slice 'n' dice any obstacle in their path!". This system features an 6-core Ryzen 5 3600 with a 4.2GHz overclock, a Radeon RX 5700 graphics card, 16GB high speed DDR4 memory and a 1TB NVMe M.2 SSD for storage. With an asking price of £1499.95, is the Shuriken worth purchasing?
Watch video via Vimeo (below) or over on YouTube at 2160p HERE
The first thing we need to address, before diving into the rest of the review, is pricing. We were initially told by Fierce PC that the Shuriken will cost £1799.95, and we filmed the video based on that information. Before going live with our written article, however, we were informed that this price was incorrect, and the Shuriken was always meant to retail for £1499.95. The video review is entirely accurate in terms of its overview of the system and with its performance results, but the conclusion will vary to this written article due to updated pricing information.

Asus TUF Gaming GT501 Gaming Case
Cooler Master MasterFan Pro 140mm RGB Fan
AMD Ryzen 5 3600 3.6GHz (4.2GHz Turbo) Hex-Core Processor (Includes 3 months of Xbox Game Pass!)
Overclocked on all cores to 4.2GHz
Asus ROG Ryuo 240mm Liquid CPU Cooler
Asus AMD Radeon RX 5700 8GB Graphics Card (Includes 3 months of Xbox Game Pass!)
16GB ADATA XPG Spectrix D60G RGB 3200MHz DDR4 Memory
ADATA 1TB XPG SX8200 PRO M.2 NVMe SSD
ASUS ROG STRIX X570-F Gaming Motherboard
Corsair RM750 80+ Gold Fully Modular ATX Power Supply
Microsoft Windows 10 Home 64 Bit
FREE – BullGuard Internet Security 100Mb, 3 Users, 1 Year
5 Year Prestige Protect Warranty (Return to Base – 2 Year Parts, 5 Year Labour, Carriage Free for first 6 months)
Let's address packaging first. Often with pre-built systems I find it is easy to overlook how your new purchase will arrive and whether you can be safe in knowing that it will arrive in once piece. I have to say Fierce PC ensured the system was very secure in transit. The system was found inside the case box, which was then placed inside another very large box and filled to the brim with bubble wrap and other materials.
There was no wiggle room whatsoever and I was pleasantly surprised at how secure it seemed. Within the case itself we found the typical foam padding to minimise the components wiggling loose during transit, and upon first inspection everything was still connected. Well done Fierce PC!
The first thing you'll notice about the Shuriken is the sheer size of this system, with dimensions of 251 x 545 x 552 mm (WxDxH). The ASUS GT501 case is certainly not hard to miss with its ATX mid-tower form factor, so make sure you have enough space to display this system as it's certainly eye-catching. Briony actually reviewed this case earlier in the year and rated it at 9/10.
Supporting two rugged TUF handles on the top, and a large glass side panel, I surprisingly found the handles incredibly useful, despite thinking they were fairly gimmicky at first, and as the system is fairly heavy I was grateful for them. The biggest downside of using a case of this size is that there is a huge empty space between the intake fans and the motherboard. Fierce PC could have utilised this space with a branded 'Shuriken' logo mounted here with RGB behind it, or something similar to better utilise this section of the case.
As standard, the case comes with three 120mm ASUS AURA RGB 1200RPM fans as front intake and one rear, non-RGB, 140mm exhaust. Fierce PC have removed this 140mm exhaust and replaced it with a Cooler Master MasterFan Pro 140mm RGB fan instead, and this is certainly a welcome addition as it really does increase the wow factor and aesthetics of the system overall due to the added RGB lighting.
Whilst we're on the subject of RGB, the Shuriken uses an ASUS X570-F Gaming motherboard with RGB accents, populated by 16GB (2x 8GB sticks) of 3200MHz DDR4 ADATA XPG Spectrix memory. Not only is this a great choice as we know Ryzen systems perform best with faster RAM, but they are fully RGB sticks and are quite something to see in action.
The CPU cooler of choice is the ASUS ROG Ryuo 240mm AIO liquid cooler and while the two radiator fans are not RGB, the pump face has a programmable OLED screen with a mirror finish. Fierce PC have programmed their logo to display on said screen and this does add to the overall theme, but do note that this is changeable if you so desire.
All of the RGB components are directly plugged into the RGB headers on the X570-F motherboard and can be controlled via the ASUS AURA RGB software that comes pre-installed on the Shuriken. Fierce PC have programmed all of the RGB components to display their signature black and orange colour scheme. As mentioned, with such a huge case I kept thinking they could have added one or two RGB strips along the top of the case, or by the recessed area in front of the PSU shroud to really make things stand out.
While the Corsair RM750 80+ Gold fully modular power supply is great to see included here, we'd expect nothing less than an 80+ Gold unit at this price point, I couldn't help but wish they'd included orange cable extensions to really make the theme of the build pop. The standard cables that come with the PSU are black sleeved, so none of the 'ketchup & mustard' red and yellow cables that let aesthetics down, but they're still not as tidy as some nice extensions.
Being an X570 motherboard you can of course overclock a CPU with this board, but Fierce PC have already overclocked the Ryzen 5 3600 CPU from its base clock of 3.6GHz (4.2GHz Turbo) to 4.2GHz across all 6 cores. After prolonged testing I can safely say this is a very stable overclock and I had no issues with it.
Lastly, Fierce PC has opted for the AMD Radeon RX 5700 8GB reference graphics card, that also includes 3 months of Xbox Game Pass. This is obviously one of the latest cards from AMD, and as Dominic mentioned in his review it is a great mid-range card. As a reference card, this model has no backplate and is restricted to the blower-style single fan cooling system. Fierce PC have assured us that once non-reference cards are available these will be swapped in as standard.