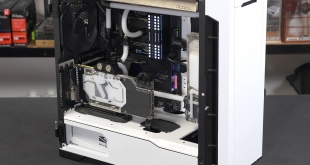 Phanteks Eclipse P600S is a hybrid mid-tower case that can switch between Silent and High-Performance modes and comes with the bold new Phanteks fabric air filtration system. The P600S uses the same core chassis as the Evolv X (a case we love dearly) while the list of features has been pruned to hold the price at a sensible level.
Watch the video via our VIMEO Channel (Below) or over on YouTube at 2160p HERE
When we reviewed the Phanteks Evolv X we were impressed by the long list of features, the options you could employ during your build and also loved the integrated RGB. The 3mm aluminium panels were a major part of the look of the Evolv X and as a result we fully understood the £200 price tag.
We have since seen Evolv X on sale at £180 but no matter how you cut it that is a fairly high price to pay. Our single biggest reservation about Evolv X is that it might be too much case for the mainstream PC builder, so a budget version of the Evolv X sounds like a fine proposition and that is where the Eclipse P600S enters stage left.
In essence Phanteks has taken the core chassis from the Evolv X, removed the integrated RGB and ditched the second glass panel and the cable management doors. Those would be significant changes to cut costs and would perhaps result in an Evolv X Lite. Instead Phanteks has gone further and has removed the aluminium panels and replaced them with steel panels on the top and front that give rise to the hybrid nature of the case.
Each panel has a cover that is held in place with magnets so you can leave them in place and benefit from their noise deadening material or you can remove them to expose the fabric mesh panels to improve air flow.
The P600S is available in Glacier White, Satin Black or Anthracite Grey with a Tempered Glass main window for £134.99 or you can have a cheaper black version with an insulated panel (i.e. no glass) for £127.99.
Using the core chassis from the Evolv X means the P600S supports a number of Phanteks accessories such as their ITX kit that allows you to install dual PCs in the chassis. If you want to use Phanteks RGB products in the P600S you will need to add an RGB controller.
Note: if the above images are not displaying properly, you may need to disable Ad Block as it is known to interfere with our display code
Be sure to check out our sponsors store EKWB here