We like almost everything about the Eclipse P600S and consider it was a clever move to create a budget version of the wonderful (but expensive) Evolv X. It seems like an obvious change to remove the second glass panel from the Evolv X and also do away with the cable management doors. The thing is, we doubt that change saved much cost as Phanteks has a knack for delivering tempered glass at a lower price than any other company we can think of.
Removing the RGB from Evolv X would also save some money, however that particular change makes us sad as the RGB system used by Phanteks is superb. Clearly there are people out there who don't much care for RGB lighting and who doubtless applaud the change. There is good news for those people as they may well like to consider the budget black P600S that has no glass at all and looks for all the world like it came from be quiet!
The final change is the replacement of the aluminium panels on Evolv X with the two part panels you find on P600S that introduce fabric air filters. This is the most significant change from Evolv to Eclipse and is very much a matter of personal taste. We like the look of the Evolv X and admire the clever use of fabric in the filtration system of the P600S but cannot honestly say we love the aesthetic of the Eclipse. That thought leads us to the conclusion that you are best advised to stretch your budget and find the money for the Evolv X.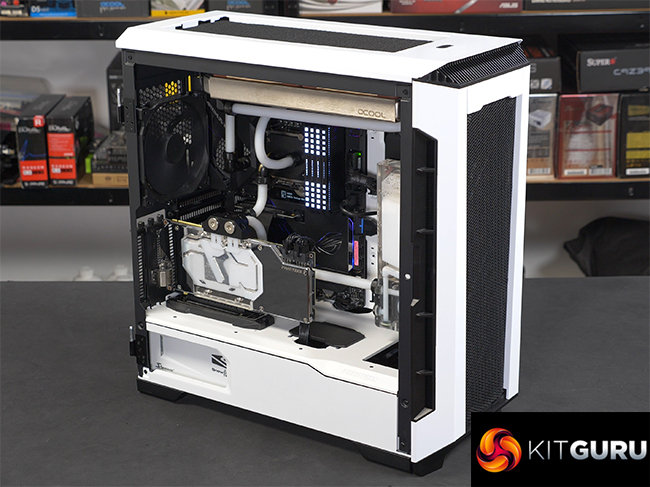 You may see things entirely differently. You may dislike the look of Evolv X and find the P600S is a smart and stylish case with a pleasingly sensible price. We fully understand that sentiment and certainly cannot say you are wrong. We prefer the Evolv X, however we acknowledge that is a matter of personal taste.
It is clear that Phanteks has reworked the Evolv X to create the P600S however they have done considerably more than simply slash the Bill Of Materials to reduce the price. Those new panels on the front and top are very clever and they show considerable thought and care. We applaud the Eclipse P600S but we prefer the Evolv X.

You can buy the Phanteks Eclipse P600S for £134.99 HERE
Pros:
Plenty of options for your cooling system.
Excellent cable management.
Clever use of fabric in the dust filters.
Glass door looks good and closes securely.
Cons:
We miss the RGB found in other models of Phanteks.
Price is slightly too high.
Vertical graphics card mount appears to have some sag.
KitGuru says: Eclipse P600S is very clever but Evolv X continues to be the king of the mountain.