Professional graphics workstations are aimed at creative professionals who are supposed to generate beautiful visuals and inspiring designs. Ironically, virtually all workstations lack any creative touch themselves, whether it is about style or enhancements in terms of performance. Overclockers UK decided to change that with Renda family of workstations.
The Renda workstations are designed to fuse professional grade hardware with what Overclockers UK does best: building highly custom systems tailored for particular needs. The workstations can address different classes of applications, including those that benefit from increased CPU clock-rates as well as those that benefit from increased amount of general-purpose cores. The PCs sport professional graphics cards as well as flexible configurations of storage sub-systems.
The OcUK Renda systems are powered by quad-core/six-core/eight-core Intel Core i5/i7 chips or Intel Xeon E5-2600 v3 processors with up to 14 cores. The workstations use Asustek motherboards and feature AMD FirePro or Nvidia Quadro graphics adapters along with 32GB or 64GB HyperX DDR3 or DDR4 memory (ECC memory for Xeon-based systems) with increased frequencies made by Kingston. Other highlights of the machines include 1TB SSDs, Blu-ray re-writers, 802.11ac wireless network cards and so on.
The range of Renda workstations include C-series (compact), M-series (micro-tower), T-series (mid-tower) as well as P-series (full-tower) models, which all come in stylish aluminium Lian Li cases with high-end power supply units. Larger (T- and P-series) workstations allow to install up to three graphics cards, Intel Core i7 Extreme or Intel Xeon microprocessors with up to 14 cores and 140W thermal design power as well as loads of solid-state or hard disk drives. Compact and micro-tower (C- and M-series) systems boast quiet operation as well as relative affordability.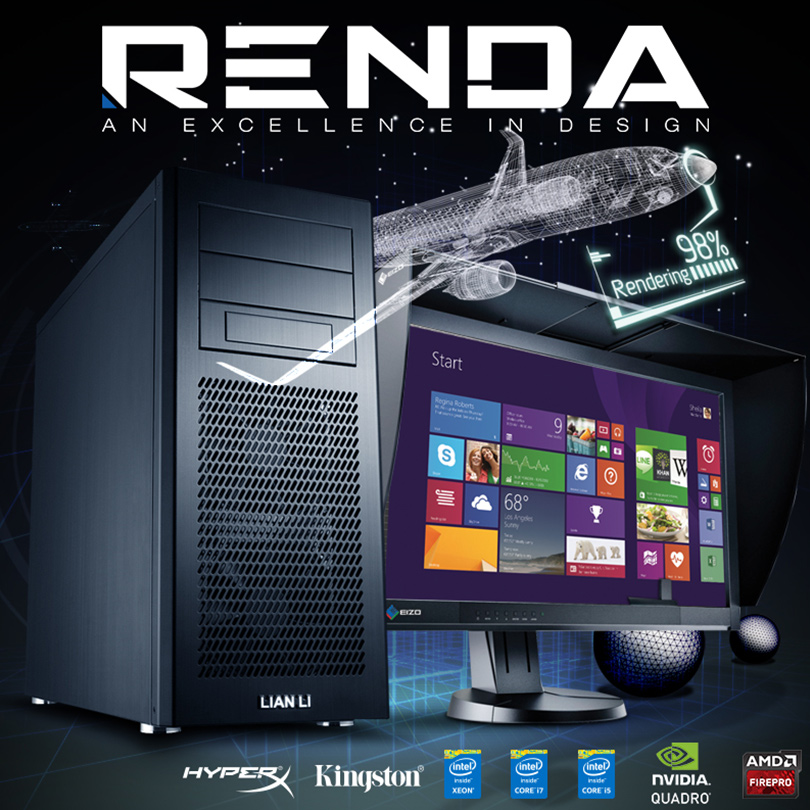 One of the main selling points of OcUK Renda workstations is their frequency enhancement option, which is aimed to deliver increased performance with workstation-grade reliability and five years warranty. While it is not a problem to get a factory-overclocked workstation-class PC in the U.S., in Europe such machines are pretty rare and usually do not feature extended warranties. Overclockers UK offers pre-overclocked Intel Core i5-4690K-, Intel Core i7-4790K as well as Intel Core i7-5800/5900-series "Haswell-E"-powered systems. The company uses super-coolers by Prolimatech for its frequency-optimized machines.
At present Overclockers UK does not offer ultra-high-end solid-state drives with PCI Express interface, Thunderbolt add-in cards, professional audio solutions and other workstation-specific options with its Renda machines, but eventually such hardware will be available for built-to-order configurations, the company said.
Overclockers UK's Renda workstations in default builds cost £953.90 – £2298.94 including VAT, but custom configurations could naturally be much more expensive.
Discuss on our Facebook page, HERE.
KitGuru Says: Given very diverse workloads for contemporary workstations, custom-built machines are clearly a way to go for professionals who need optimized performance. While Overclockers UK yet have to complete their workstation offerings with professional audio, PCIe SSDs, Thunderbolt and other specific hardware, it is very nice to see "frequency optimized" (which is a polite "workstation-class" expression for factory-overclocking) options with professional graphics cards and five year warranty in one package.