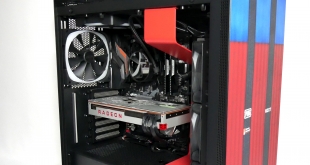 Today we are looking at a pre-built system from AWD-IT. This gaming rig is built around NZXT's limited edition Player Unknown's Battlegrounds (PUBG) H700 case, as well as one of the new Radeon VII graphics cards and a Ryzen 7 2700X processor. For £1799.99 it's not the cheapest system we've ever tested, but is it worth the money?
Watch the video via our VIMEO Channel (Below) or over on YouTube at 2160p HERE
Specifications:
Case: NZXT PUBG H700
CPU: Ryzen 7 2700X 8-core, 16-threads 3.7GHz (Base) – 4.35GHz (Boost)
Motherboard: Gigabyte Aorus AX470 Ultra Gaming
Graphics: Gigabyte Radeon 7 16GB HBM2
Storage: 250GB Samsung Evo SSD
System Memory: CORSAIR Vengeance LPX 2x8GB DDR4 3000MHz
Power Supply: CORSAIR TX650M Gold Certified Semi-Modular
Cooling System: NZXT Kraken X72 AIO Liquid Cooler
Fans: NZXT AER Series 2 140mm LED with a HUE 2 Controller
Top I/O: 2x USB Type-A 2.0, 1x USB 3.1 Gen 1 Type-A, 1x Mic in, 1x Headphone-out
Rear I/O: 4 x USB 2.0/1.1 ports 4 x USB 3.1 Gen 1 ports 1 x USB Type-C port, with USB 3.1 Gen 2 support 1 x USB 3.1 Gen 2 Type-A port (red) 1 x HDMI port 1 x RJ-45 port 1 x optical S/PDIF Out connector 5 x audio jacks
Dimensions: 230mm(W) x 516mm(H) x 494mm(D)
Accessories: 1x Warranty Guide, 1x Kettle Plug, 1x System Build Information Sheet
The whole thing about this PUBG case is that it's been made to look exactly like one of the aeroplane drop crates from the game. It is limited edition, with only 2000 of them being produced, and it includes a lovely plaque on the inside with a unique number from either 1-2000 engraved onto it.
The case is made from SGCC steel and has a tempered glass window on the left-hand side of the system, allowing you to get a good look at the red PUBG bracket and the PSU shroud on the inside, as well as all the other components.
Another great feature with the case is the simple 'press to release' button for the solid side panel on the right-hand side. This is fantastic and is a massive improvement over those awkward slide-on side panels, when one side could be slotted correctly but trying to get the other side to fit can sometimes be time consuming and rather annoying.
Unfortunately, the graphical design of this PUBG H700 case isn't aligned perfectly on the top panel, which makes the exterior of the case look quite clumsy. It's a shame as it's a limited edition case and with it being just 1 of 2000 to be made, it is most definitely noticeable and any potential customer would be well within their rights to complain about this.
The interior of this build looks very neat, however, and cable management is really well done with everything being nicely tucked out of the way or hidden well. If you want to upgrade components later on down the line, expansions can easily be made. The build's interior has a silver, black and red colour scheme which works very well with the exterior of the case and generally it looks cohesive.
As you can see in the CPU-Z images, the CPU included in this build is the Ryzen 7 2700X with 8 cores/16 threads, and it is important to note this is running at stock clocks in this system. Alongside this is 16GB of Corsair LPX RAM clocked at 3000MHz, plugged into the ATX Gigabyte Aorus AX470 Ultra Gaming Motherboard. The GPU is the AMD Radeon VII with a rated boost clock of up to 1800MHz.
Be sure to check out our sponsors store EKWB here