All of our testing on the ASUS ROG Zephyrus GX502GW was conducted with the laptop charger plugged in and the highest performance 'Turbo' profile enabled in the Armoury crate software. This allows the laptop to really stretch its legs and get the highest benchmark scores possible.
CrystalDiskMark:
CrystalDiskMark tests the raw speed of a storage device. It uses a test file to write data to or read data from the drive. We test using the default 1GB file size.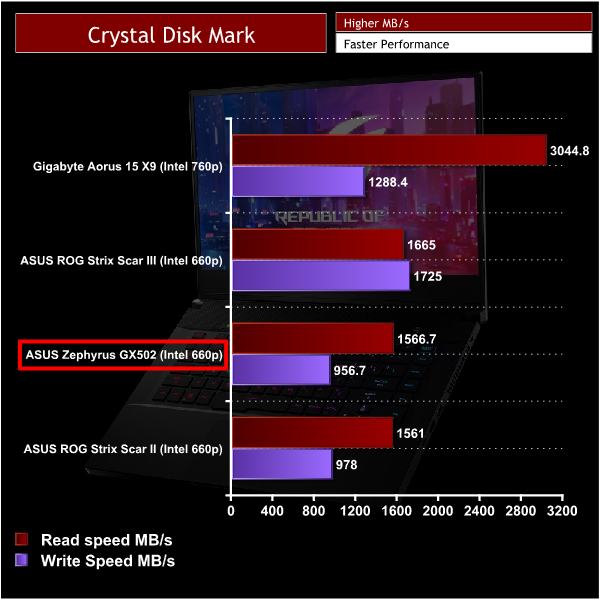 The Intel 660p is an M.2 drive we have seen in a lot of ASUS laptops and it isn't really the fastest drive but it is quicker than a standard SATA based solid state drive and is much faster than a basic HDD.
However the Intel 660p is more of a budget drive and in a laptop at this price point that isn't great. The laptop does feel snappy and responsive but there are much faster drives such as the Intel 760P available in similarly specced laptops such as the Aorus 15 X9.
You also only get the single drive in the Zephyrus and without the addition of a HDD for more storage it is possible you will run out of storage, especially if you have a loaded STEAM library.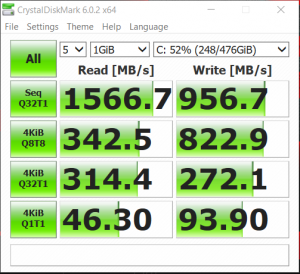 Cinebench R15:
Cinebench R15 is a cross-platform testing suite that measures CPU performance. I compared the Zephyrus with some other laptops Kitguru have tested that feature the similar i7-8750H processor for a quick comparison to demonstrate its relative performance.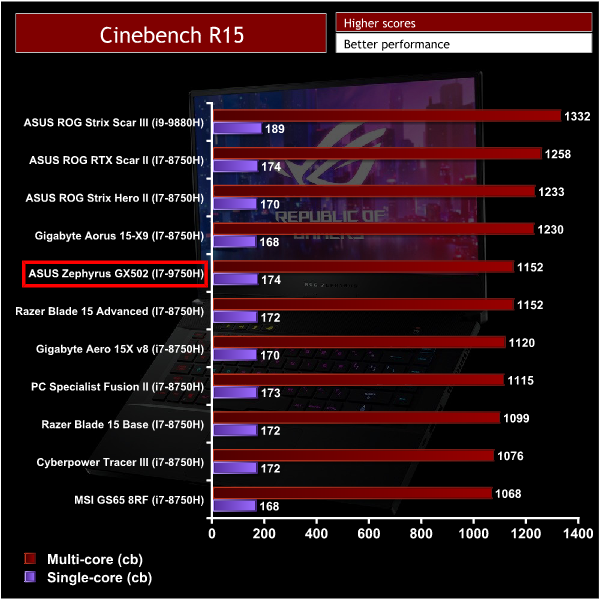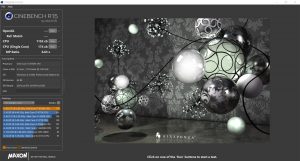 This is the first opportunity I had to compare the I7 9750H to the older I7 8750H and its easy to see there isn't really anything between the two CPUs. Cooling and temperature are the restricting factors when it comes to the performance from both these processors and the GX502 scores about average with a score of 1152.
This is on par with the Razer blade 15 Kitguru tested and there seems to be no advantage in upgrading to the newer i7 9750H processor if you already own a laptop with the i7 8750H.
Cinebench R20: 
Improvements to Cinebench Release 20 reflect the overall advancements to CPU and rendering technology in recent years, providing a more accurate measurement of Cinema 4D's ability to take advantage of multiple CPU cores and modern processor features available to the average user.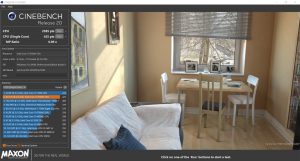 With Cinebench R20 the GX502 Zephyrus gets a very decent score but we once again see there is very little difference between the i7 9750H and its predecessor, the i7 8750H.