3DMark results:
For this test, I ran the ROG Zephyrus through Fire Strike, Fire Strike Ultra, Time Spy and Port Royal which is the new benchmark specifically for ray tracing. In the graphs below you can see it compared against similar laptops. Even though some have similar specifications, slight variations in boost clock speeds caused by fluctuations in temperature have an impact on performance.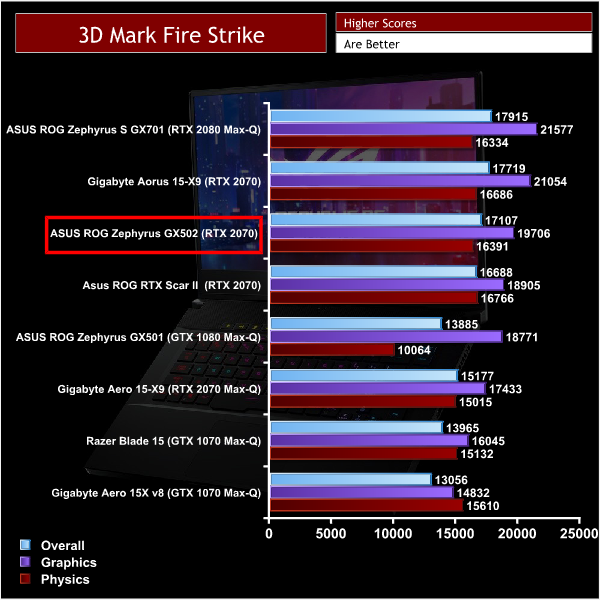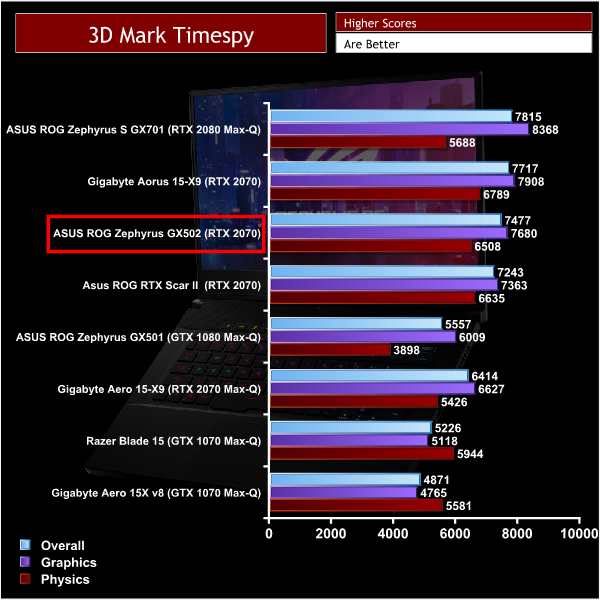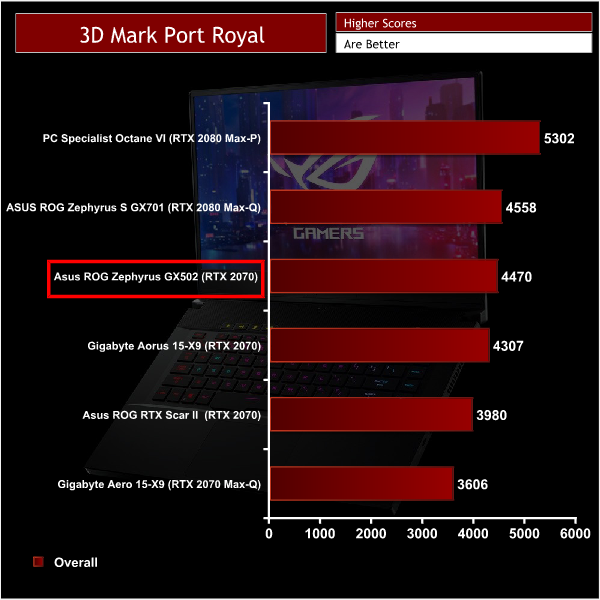 Throughout the 3D Mark testing the Zephyrus GX502 did rather well. The CPU physics scores were a little lower than some of the laptops which as we know is due to cooling restraints. However the High boost the RTX 2070 could achieve allowed the GX502 to climb the ranks and only lose out to Aorus 15-X9 in 3 of the tests.
In Port Royal which tests ray tracing performance the score is surprisingly close to that of a RTX 2080 Max Q equipped laptop.
Gaming performance:
I used the ROG Zephyrus to play 3 different popular and graphically demanding games. I tested the games at their highest graphical settings with DX12 turned on where possible and AA disabled. I then compared the results to other laptops Kitguru have tested.
Rise of the Tomb Raider is an action adventure game with many different environments and immersive landscapes making it a useful way to test this laptop's gaming performance. It was tested on Very high settings with AA disabled.
Far Cry 5 was released on March 27, 2018. The gigantic open world of Hope County has plenty of beautiful scenery to test how well this laptop performs with a newer game. We tested on the Ultra preset with AA and motion blur disabled.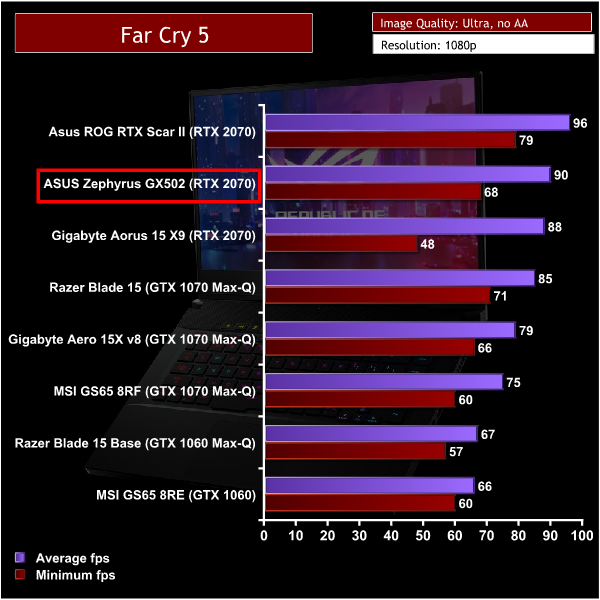 Tom Clancy's Ghost Recon Wildlands is a game with a superb open world environment. The beautiful scenery of mountains, forests and deserts requires a lot of GPU power to render, particularly on high settings. This demanding game is perfect for testing this laptops gaming performance. We tested on very high settings with AA disabled.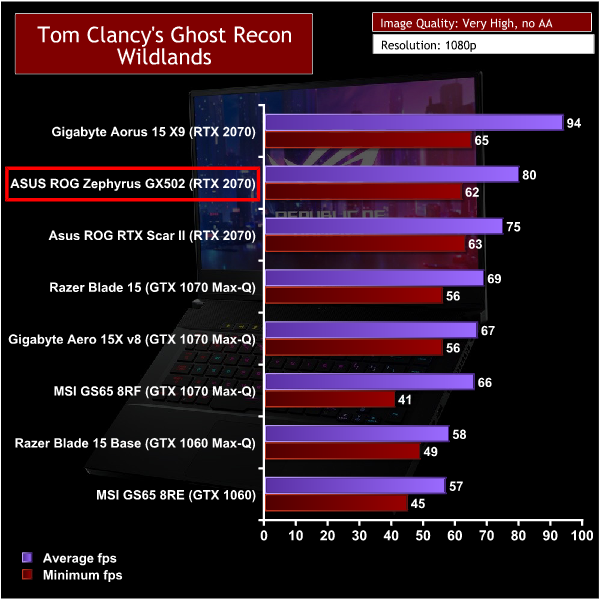 When it comes to gaming the Graphics card is the most important when it comes to getting good FPS and the Gaming benchmarks certainly show this. All of the games we tested are demanding games at their highest settings and the GX502 handles them like a champ.
Because the RTX 2070 is kept at a good temperature it can boost high and mean that the 144hz screen doesn't go to waste with the average FPS never dipping below 60.  If you're going to be using this laptop to play older, less demanding games like CS:GO it might be worth opting for the 240Hz display option for an even smoother gaming experience.