Battery Life:
To test battery life I used the 'Home' benchmark in PCMark 8. This test isn't hugely demanding when it comes to computational requirements and, although artificial, it is likely to simulate the sort of stress the laptop would undergo while doing a small amount of video editing, web browsing and word processing. I set the screen brightness to 100%, and the keyboard brightness to 100%.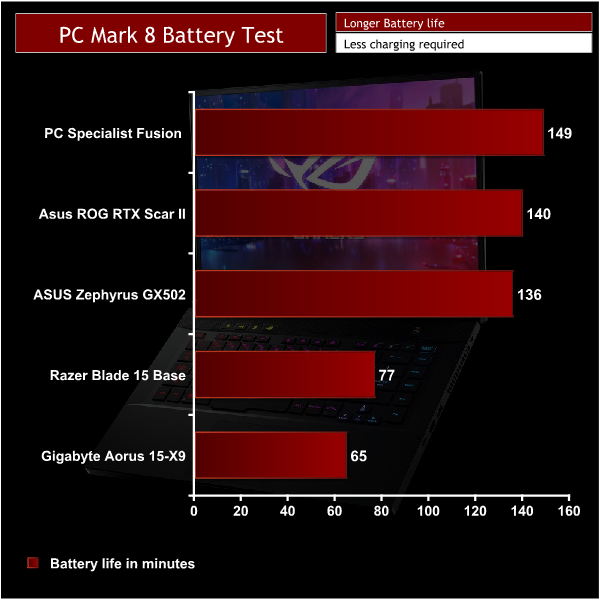 When the Laptop is unplugged it automatically switches down a profile (I tested it while in the 'Performance' mode option). The fans also get noticeably quieter and the back light dims which is a smart way of preserving battery. The Zephyrus also features Nvidia Optimus technology where the laptop will use the integrated Intel graphics over the dedicated RTX 2070 while under light loads. Because the GX502 lacks a HDD there is a lot more space which allows for a reasonably large 76Wh battery.
All this tech and clever software tweaking means that for a gaming laptop the battery life is actually pretty impressive at just under 2.30hrs. And in a real world situation you could probably expect around 4 hours. That said, on battery, the performance will take a hit so you wouldn't want to game without a charger plugged in but you can spend a decent amount of time using this laptop as a portable productivity machine for simple tasks.
Temperature testing:
I tested the temperatures with the laptop set to 'Turbo' mode with the charger plugged in. I ran AIDA 64 for 10 minutes to stress the CPU & GPU simultaneously. AIDA64 is an artificial benchmark and tests the laptops cooling to the max.
While idle the 50C to 48C temperatures coming from the GX502 are a bit warmer than other gaming laptops Kitguru have tested recently and this translates to load levels also. I would say that the cooling performance in this laptop is below average even for a gaming laptop. Turbo mode allows the laptop to get louder and boost higher but the fans cannot keep the temperature under control in AIDA64.
This is a synthetic benchmark but we saw the CPU clock speed throttle to below the 2.6Ghz threshold and sit at about 2.5Ghz. The I7 9750H requires good cooling to maintain a high boost clock speed and perform well and the GX502 doesn't provide the right environment with load temps reaching an unpleasant 95C.
Aida 64 is a worst case scenario but if you're looking to spend hours gaming on this laptop I found it got just as hot while benchmarking games. The laptop was able to maintain a higher boost clock which meant that gaming performance didn't suffer but 95C is not where a CPU should be sitting for a prolonged gaming session.
One thing also worth mentioning when it comes to cooling is that the chassis and keyboard of the laptop gets noticeably warmer and even quite hot in some areas after a long period of  use.
The RTX 2070 fairs a lot better and hits a safe maximum of 71C while gaming but the overall cooling performance on this laptop could be better.
Noise levels:
I measured noise levels using a sound meter while the laptop was idle with no programs open, and then during stress testing to get a reading with the system under 100% load.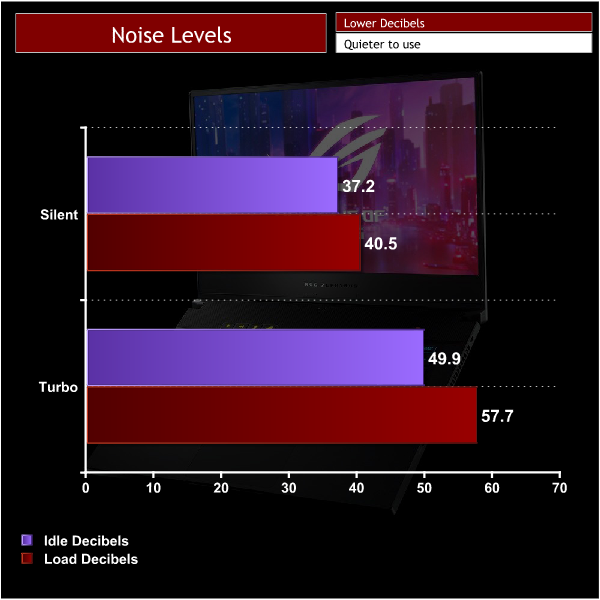 I took decibel readings while the Zephyrus was in both the silent and Turbo profiles which cater to two different scenarios. Fan noise on this laptop isn't as loud as some I have heard but the fans do constantly make an audible noise even in the slightly more restrictive silent profile. However you can do more taxing tasks without much of an annoyance at the expense of reduced performance.
In the Turbo profile which gives the best performance this laptop is too loud for a quiet environment even if you aren't really doing much. The idle level of 49.9 decibels will begin to grate on you and when you push this laptop we measured around 57.7db. This is rather uncomfortable.
The Zephyrus is a thin lightweight laptop with powerful components and unfortunately the compromise is that it runs hot and loud.