Battery life:
To test battery life we used the 'Home' benchmark in PCMark 8. This test isn't hugely demanding when it comes to computational requirements and, although artificial, it is likely to simulate the sort of stress the laptop would undergo while doing a small amount of video editing, web browsing and word processing. We set the screen brightness to 100%, and the keyboard brightness to 100%.
Battery life on this laptop is unfortunately pretty poor. Even if we take in to account that this is an artificial benchmark – so you could expect to double the 65 minute battery life in a real world situation – that's still only two hours of use away from the mains. Given Gigabyte's own Aero 15 laptops are well known for their 94Wh batteries, it is a shame to see this Aorus model ship with a significant smaller 62.3Wh cell.
Temperature testing:
We tested the temperatures with the laptop set to 'best performance' mode with the charger plugged in. We run AIDA 64 for 10 minutes to stress the CPU & GPU simultaneously.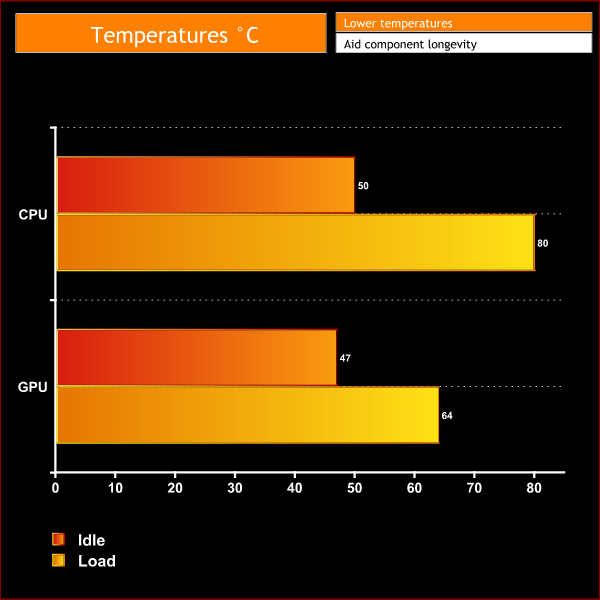 It seems that the Gigabyte Aorus 15 X9 doesn't suffer like some laptops do when it comes to heat dissipation. It does create a lot of noise while doing so but it keeps the CPU at a reasonable temperature of 80C while under full load.
The RTX 2070 is also allowed plenty of room to breathe with it only reaching a maximum temperature of 64C, which I have to say is a particularly good result.
Noise levels:
We measured noise levels using a sound meter while the laptop was idle with no programs open, and then after pressing the maximum fan speed button to get a reading with the fans running at their highest RPM.
While idle, the fan noise coming from the Aorus 15 X9 is barely noticeable at 36.8 decibels. It simply fades into the background unless you put your ear right up to it and purposely listen for the fans.
While at full speed this laptop gets very loud, however. It is one of the loudest laptops we have tested and you do have to raise your voice to talk over it. People around you are likely to get annoyed if you decide to game for long periods of time in a populated environment.
Fortunately, thanks to the AI software, the fans rarely run flat out. They only properly spin up when the laptop is really put to the test, but playing a demanding game will cause the fans to ramp up and create quite a bit of noise.
There is always going to be a compromise when it comes to putting powerful components in a small chassis – be it temperatures, noise, or performance. In the case of the Aorus 15 X9 it is certainly noise.