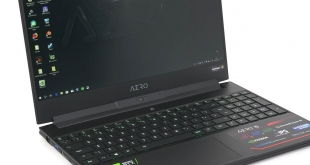 Last updated on April 8th, 2019 at 02:02 pm
When Gigabyte showed us their Aero 15-X9 laptop at CES it stood out from the massive array of RTX graphics laptops we saw during the week. It was welcome that the Aero 15-X9 was a development of the Aero 15X v8 that turned out as one of our favourite laptops of 2018. The combination of Intel 6-core CPU and RTX 2070 Max-Q graphics was always going to work well but the thing that makes this potentially the single most interesting laptop that was launched at CES was the inclusion of a Microsoft Azure AI feature. This promises to optimise settings for each piece of software on the fly and without human intervention in a win-win where you gain performance and lose nothing.
If Gigabyte's new AI feature could deliver the goods that would be impressive but our starting point for this review has to be the new RTX 2070 Max-Q graphics as we were keen to see just how well Ray Tracing works in conjunction with that 144Hz IPS LG display panel.
Watch the video via our VIMEO Channel (Below) or over on YouTube at 2160p HERE
Features
The World's Only "All Intel Inside" laptop
World's First Microsoft Azure AI Notebook
5mm Ultra-thin Bezel
LG IPS 144Hz Panel
Samsung DRAM Module
Nahimic 3 3D Audio for Gamers
X-Rite Pantone Certified Display
Killer DoubleShot Pro, Powered by Intel
GeForce RTX 2070 Max-Q
Note: if the above images are not displaying properly, you may need to disable Ad Block as it is known to interfere with our display code