Cooling Performance.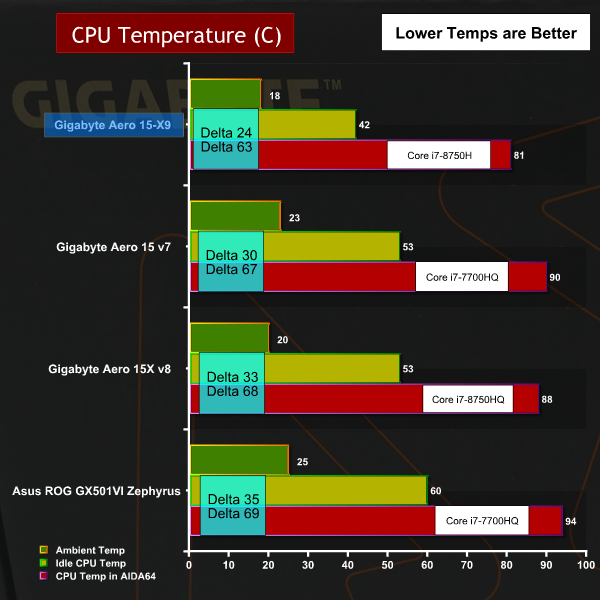 Cooling Performance Overview.
Gigabyte has used a cooling package on the CPU and GPU that is very similar to the system used on the Aero 15X v8. The air is drawn in through huge openings on the bottom of the chassis and the exhauster behind the keyboard at the bottom edge of the screen.
The CPU temperature is significantly lower than the previous model while the GPU temperature is higher. The cooling fans sound slightly louder in this model than previously and it seems to us that Gigabyte has ramped up the fan curve slightly to keep the new RTX graphics under control.
Both CPU and GPU now run at very similar temperatures and we are pleased to see the whole system is now nicely balanced and works efficiently as a whole.
Battery Life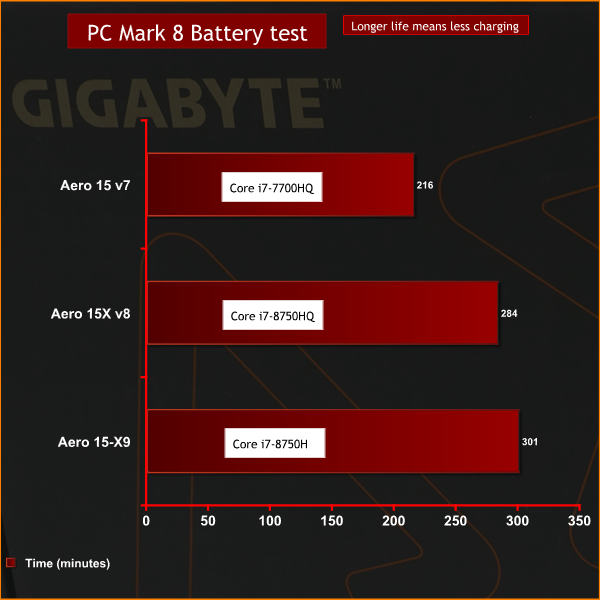 Battery Life Overview
Aero 15-X9 packs the same 94.24Wh/6200mAh battery as the Aero 15X v8 and draws almost exactly the power at the wall socket. Depending on the scenario the figure may be up or down by 5W. As both laptops use the same CPU we can conclude the GTX 1070 and RTX 2070 graphics packages draw very similar levels of power.
The fact that Aero 15-X9 extends battery life by some 15 minutes in PC Mark 8 suggests we either got a slightly better battery this time round or that Gigabyte has fettled the settings slightly. We continue to be impressed by Aero 15 as a series of laptops that allow all-day working.