Closing Thoughts.
We are impressed by the quality and look of Gigabytes Aero 15-X9, although the look and feel of the keyboard continues to cause some annoyance. We said it before and we will say it again; the layout of the keys just feels weird. Functionally the keyboard and touchpad both work fine and we enjoyed using this laptop and find it to be an impressive workhorse.
At present the RTX 2070 Max-Q graphics are a work in progress. We know the desktop RTX graphics beat GTX 10-series hollow however it seems the lower clock speed of Max-Q reduces the advantage of the new GPUs. Added to that we are waiting for games developers and other software writers to use Volta to full effect. Once that starts to happen we will need Nvidia to work on the drivers and DLSS to balance image quality and performance. This process may well take years rather than months and laptop manufacturers such as Gigabyte are forced to wait and see how things turn out.
Everything we have seen so far tells us that Ray Tracing has minimal impact at 1080p and works better at higher resolution and on large displays. This means that laptops, which mostly use 1080p displays are inevitably hamstrung when it comes to the new graphics. We like the 144Hz IPS panel from LG in this Aero 15-X9 however that is nothing to do with the new RTX graphics.

One area where Gigabyte has decided to try its own thing is the Microsoft Azure AI feature where the system learns which settings deliver the best performance with particular pieces of software such as games and Adobe Photoshop. Naturally we were intrigued by this feature however we simply did not see a benefit from the software.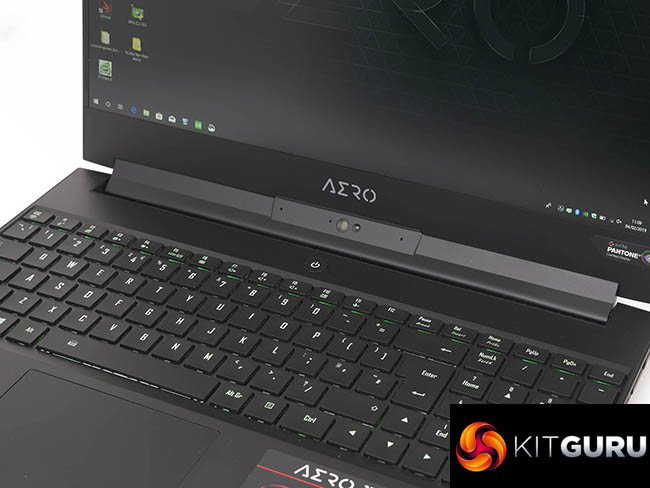 You will have detected our scepticism in the video as the 'Cloud AI Machine Learning' description sounds like a word salad of buzz words. Nonetheless Gigabyte is adamant their testing shows gains of around 4 percent performance and the system is clearly intended to improve over time.
We remain to be convinced and if we see extra performance in the future then all well and good. In the meantime if you disable the software there is zero downside so we shall withhold our final judgement for the time being.
Our single biggest problem with the new wave of RTX laptops is pricing. In the case of Aero 15-X9 you are paying an extra £200 over the GTX 1070 version for which you get a smart chassis and the promise of future performance from the new graphics. Historically we would have expected to see the latest hardware come in at the same price point as the previous version, however we all know that Nvidia has jacked up prices for the past few years. In this instance there is a £200 premium for RTX 2070 Max-Q compared to GTX 1070 and we have to say that Gigabyte prices its laptops more keenly than some other brands.
We hate to wrap up a review with a piece of wishy washy vagueness but right now we are waiting to see what Nvidia does next. Our natural inclination is to wait and see how Aero 15-X9 develops over the next few months as it does not currently offer a compelling reason to upgrade a 2018 laptop. Of course it is a different story if you need a grunty laptop right now as your buying decision becomes a question of which RTX laptop you should buy, rather than whether or not you should buy. In that context Gigabyte 15-X9 certainly deserves your consideration.
See more on this laptop over HERE. Our review sample is priced £2399 inc VAT

Buy this model from Overclockers UK HERE
See the full Aero 15 range at Overclockers UK HERE
Pros:
Thin and light chassis with plenty of CPU cooling.
Six cores of Intel CPU grunt.
144Hz LG IPS panel looks superb.
RTX 2070 Max-Q graphics have great potential.
Cons:
Nvidia's new graphics have jacked the prices.
Azure AI software has yet to prove its worth.
Buggy software caused the RGB keyboard lighting to shut down.
Intel has 9th Gen. CPUs coming soon.
KitGuru says: Aero 15-X9 is thin and light with long battery life however it is only marginally better than Aero 15X v8.