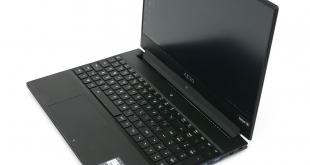 Today we see the launch of the Gigabyte Aero 15X v8 that packs the brand new Intel Core i7-8750HQ. This is a mobile version of Intel's 8th Gen Coffee Lake CPU with six cores that takes over at the high end of Intel's range from the quad core models that have been in vogue since 2009.
Gigabyte tells us the Aero 15 is the first laptop with a really thin bezel to sport a 144Hz display panel, however we know for a fact the new MSI GS65 has a very similar specification. Although Mobile 8th Gen CPUs are brand new we already have the clear impression that ultra-thin laptops with a large screen are going to be smack bang in the mainstream during 2018.
Watch the video via our VIMEO Channel (Below) or over on YouTube at 2160p HERE
The cooling update video is also available on YouTube at 2160p60 HERE
Features
8th Generation Intel Core i7-8750H 6-core processor
Up to Nvidia GeForce GTX 1070 with GDDR5 8GB VRAM
Thin Bezel Design: Full HD 144Hz/UHD Adobe RGB 100% Display
X-Rite Pantone Certified Display
All day battery: 94.24Whr
Gigabyte Fusion per-Key RGB backlit Keyboard
Thunderbolt 3 ready for high speed data transmission
Support HDMI 2.0 and HDCP 2.2 for [email protected] output
Dual M.2 SSD/ RAM Slots
Specification
CPU Intel 8th Gen. Core i7-8750HQ, 6 cores with HT, 2.2GHz base clock, All Core Boost 3.4GHz, Max Boost 4.0GHz, 45W TDP
Screen 15.6-inch, 1,920×1,080 resolution, 144Hz refresh IPS
Graphics Nvidia GeForce GTX 1070 Max-Q
Memory 16GB G.Skill RipJaws DDR4-2666MHz
SSD 512GB Toshiba THNSN5512 M.2 NVMe
Storage 2x PCIe Gen3 x4 M.2 slots
Audio 2x 2W speakers
Ethernet Realtek Gigabit
Wi-Fi Intel AC 8265 Wireless
I/O ports
1x USB 3.1 Gen2 Type-A
2x USB 3.1 Gen1Type-A
1x Thunderbolt 3 Type-C
1x HDMI 2.0
1x Mini DisplayPort 1.4
Headphone jack
SD card reader
Battery 94.24Wh 6200mAh, 215W adapter
Dimensions 356mm x 250mm x 18mm
Weight 2.09kg plus 720g for power supply and mains cable
The specification of the Gigabyte Aero 15X v8 is impressive as it takes that combination of 6-core CPU and GTX 1070 Max-Q graphics and adds a satisfying list of ports and connectors, along with 16GB of G.Skill DDR4 and a 512GB SSD. Topping off the list of features, we have an aluminium chassis with an overall thickness of 18mm and a weight that is slightly over 2kg.
While the performance of the new Core i7-8750H is clearly a matter of keen interest, we were completely confident it would eclipse previous quad core laptops with Mobile 7th Gen Kaby Lake, in just the same way that desktop Coffee Lake comfortably beats its predecessor.
The key numbers for the new Core i7-8750H are a base speed of 2.2GHz, all core Turbo speed of 3.4GHz and a claimed Maximum Turbo speed of 4.2GHz on a single core, although we only saw a speed of 4.1GHz in our tests. Maximum Turbo speeds are limited by thermal packages and power, and beyond that they are 'maximum' rather than 'guaranteed.' The GTX 1070 Max-Q graphics have been demonstrated to work effectively at a screen resolution of 1,920×1,080 so our mood at the start of this review was upbeat and optimistic.
A couple of points immediately came to our attention. The first being the keyboard layout which is mildly annoying with the DEL key inboard of the NUM pad instead of being positioned at the top right.
The second is the set of Gigabyte utilities that controls the lighting in the keyboard, allows you to set fan profiles and also reports on the temperatures and clock speeds inside your new laptop. The software is useful and does a decent job however it feels unnecessary. Can anyone honestly claim they are able to use a laptop with the keyboard lighting set to Rainbow Marquee? By the same token do we really need the ability to set a custom fan curve when it surely makes better sense to leave the job to a highly trained team of development engineers at the factory?
Be sure to check out our sponsors store EKWB here