Thermal Dynamics:
To test the cooling performance of the Zotac MEK1 we ran AIDA64 and Unigine Heaven for 10 minutes. We test the CPU & GPU at the same time to ensure that the cooling is sufficient to cool both chips. We also kept an eye on the temperatures during gaming to ensure the results are representative.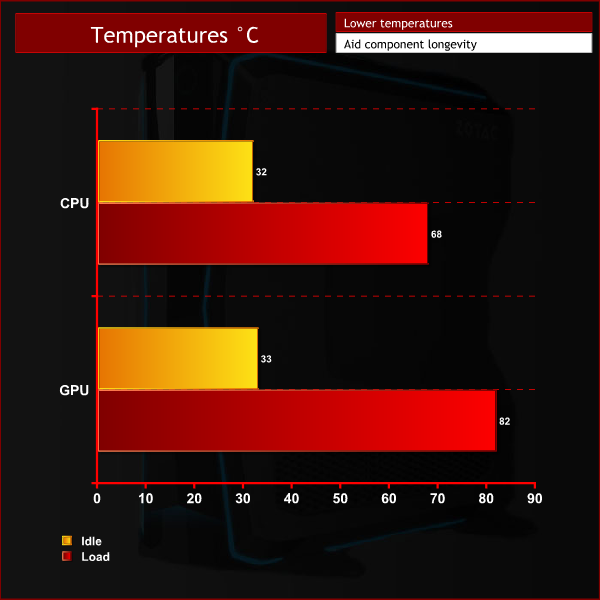 Idle temperatures are very good with both the CPU and GPU sitting at just over 30C. The CPU stays under 70C when stressed so it appears Zotac has done a good job when it comes to cooling the i7-7700.
The GPU does get quite a bit warmer at 82C but we found that the fan profile is fairly conservative, with the maximum GPU fan speed reaching 52%. At 82C the GPU is well within safe limits but we wouldn't recommend playing around with the clock speed.
Noise Levels: 
We measured fan noise levels using a sound meter while the PC was idle with no programs open, and then during AIDA64 testing to get a reading with the system under load.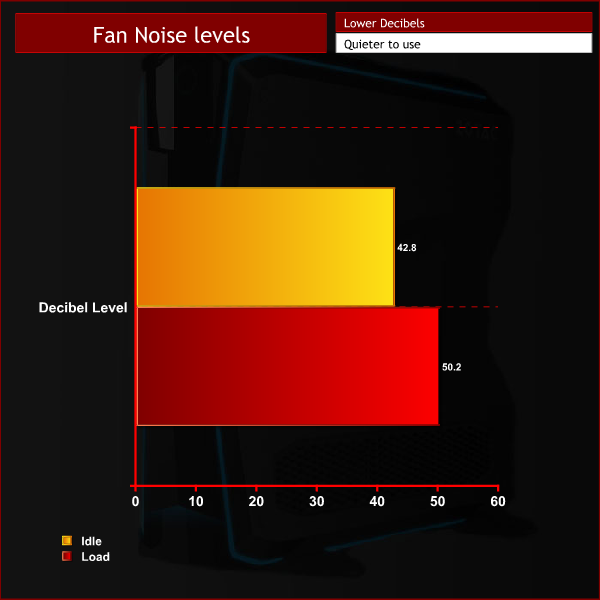 At 42 decibels the Zotac MEK1 isn't a silent and stealthy desk companion but the fans are certainly nothing to worry about. Under load, the fan noise noticeably increases but not by much and at 50 decibels it still blends into the background. We'd like to see slower fan speeds when the MEK1 is idle, however, for a quieter working environment.
Be sure to check out our sponsors store EKWB here