E3 is just around the corner, which means we are currently right in the middle of 'leak season'. Like every year, some of these will be fake and some of them will be very real. The Walmart Canada leak was a good start and gave us a decent first impression of what to expect from Sony and Microsoft, but what about Nintendo?
There have been a lot of rumours surrounding the next Pokémon game for the Nintendo Switch, which are now largely confirmed. There will be two games, Pokémon Let's Go Pikachu and Pokémon Let's Go Eevee. These will be spiritual successors to Pokémon Yellow, and will take some inspiration from Pokémon Go, with some changes to the way players catch Pokémon. Nintendo has already registered domain sites for both versions of the game, pointing towards it being real.
Beyond that though, there is a more all-encompassing rumour doing the rounds. Last night, a sheet claiming to show the schedule for Nintendo's E3 Direct stream appeared online, with a bunch of new game announcements that we haven't seen yet.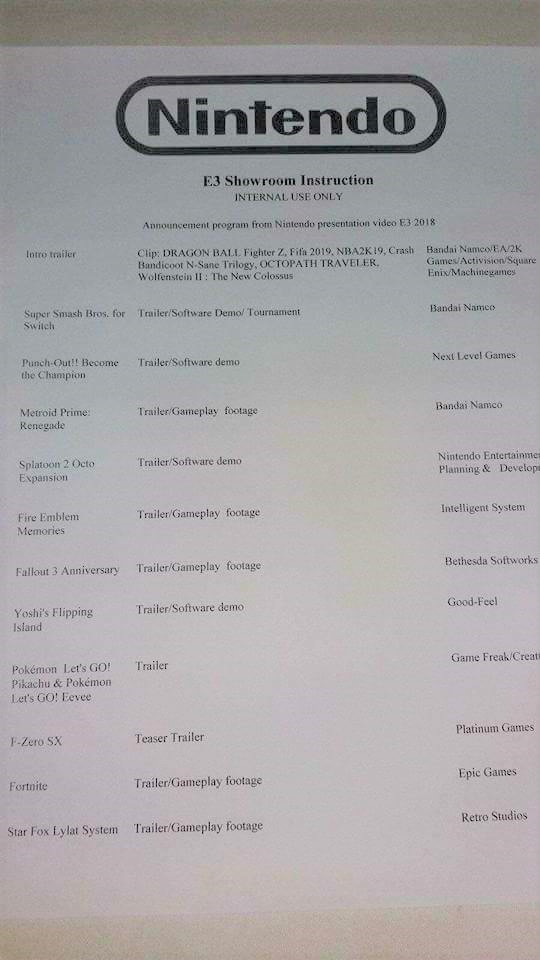 While this rumour is sketchy and unsubstantiated for the time being, it doesn't seem completely implausible. According to the rumour we'll be getting a quick intro trailer showing off Dragonball FighterZ, FIFA 2019, NBA 2K19, Crash Bandicoot, Wolfenstein II and Octopath Traveller for the Switch.
After that, we'll apparently be shown Super Smash Bros for Switch, which was announced earlier this year. Then we'll start getting a few surprises, ranging from Metroid Prime: Renegade, Punch-Out, Fire Emblem Memories, Fallout 3 Anniversary, Fortnite and a new Star Fox game.
We know that Nintendo is working on a new Metroid already, and a core Fire Emblem title was confirmed to be in the works last year.
Ultimately, this could be a fake leak based on educated guesses and a few past announcements for in development projects. With that in mind, take all of this with a grain of salt. Still, E3 season has me very excited with all of the possible announcements.
KitGuru Says: Dragonball FighterZ, a new Fire Emblem and a new Pokémon game would all have me very excited. With that said, this is a list that just about any Nintendo enthusiast could have faked based on announcements and rumours over the last year. Is there anything you're hoping to see for the Nintendo Switch at E3 this year?