The Zotac MEK1, with its compact form factor, is a great option for users who want high end gaming performance in a PC not much larger than a console.
Pre-built PCs often come at a premium but we think the £1,399 asking price is reasonable for the specification of the MEK1. You do pay a bit extra for the small form factor and unique looks, but the mark-up is reasonable.
Elsewhere, the plastic body with its large fins is not the most attractive but the customisable lighting is a nice touch. It's still a nice and compact rig, though, so this will easily fit on your desk.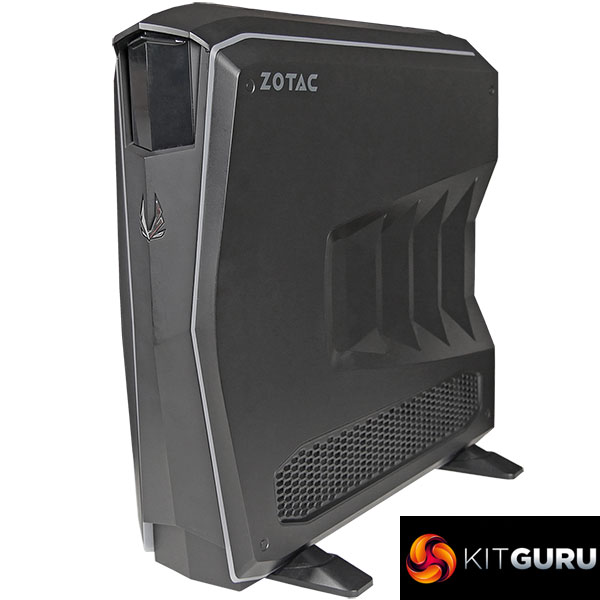 In terms of cooling performance, the thermal results are overall pretty good, but the MEK1 can be a little loud when idle, though this could easily be adjusted with a fan profile change.
The gaming performance is great as expected thanks to the GTX 1070 Ti, but we're not sure why Zotac opted to use the outdated i7-7700 processor in 2018. It certainly puts the MEK1 at a disadvantage compared to other compact PCs coming out this year featuring the new 8th Gen processors.
All in all the Zotac MEK1 is a good option for high end gaming performance in a smaller form factor. It's easy to set up and live with but its looks may prove divisive.
The Zotac MEK1 can be found for £1439.99 HERE.
Pros: 
Fairly priced.
Powerful gaming performance.
Stays reasonably cool and quiet under load.
Easy to set up.
Customisable RGB lighting with good software.
Cons:
Not the prettiest to look at.
Outdated 7th gen processor.
Could be quieter when idle.
Coil whine was occasionally noticeable.
KitGuru says: The Zotac MEK1 does a good job of offering impressive gaming performance in a compact form factor.
Be sure to check out our sponsors store EKWB here