Many of you guys know me as Carl from the Kitguru Facebook page – we share a lot of fantastic looking reader systems every month, but every so often these systems have a fascinating story behind them. Reader Jack McBride from the United Kingdom sent this one into us today … with an sad, but positive story behind it. I spoke to him today on the phone.
Jack was recently diagnosed with terminal cancer and decided to quit his job, living off his savings for the short time he said he has left to enjoy life. He has always loved gaming, since the early Spectrum days and after spending some time chatting with him today his knowledge of gaming is quite incredible. It was only after a little discussion (and persuasion) that he was comfortable sharing a little bit of his life. His positive attitude will be a source of inspiration for many.
Jack has always been a huge technology lover and has worked in the UK government for most of his life. He is a self proclaimed Nvidia 'fanboy' (his words not mine) and just loves everything they create – putting a lot of his money into upgrading his gaming system every year.
He said "I read KitGuru's review of the Dead Silence case last year and just loved the idea of having a system physically that small that could handle a GTX Titan and all the other high end hardware I wanted to use. I was sick of owning massive tower systems which generated a lot of fan noise. It was really irritating me at night time. Sometimes I want to move the system around my house so it seemed like a good move. I ordered one from Overclockers in the UK and decided to build around it.
There was no doubt in my mind that I wanted a Z87 motherboard to work with an overclocked i7 4770k, so decided to take a chance on the MSI Z87M Gaming motherboard – again after reading KitGuru's review of it last year. I have always had great success with Kingston memory, so bought 32GB of their Beast 2,400mhz memory.'
He already had two Nvidia GTX Titan Black video cards in his Thermaltake super tower case which he said 'was very loud and drove me nuts'. He then sat down to work out if the Aerocool Dead Silence was capable of actually cooling two GTX Titan Blacks.
"I know it might seem mad to many people, and totally overkill for gaming, but I just love Nvidia's Titan Cards, although I wish they had painted them black this time around. I would have been happy with one in the system, but why not try and get both in? The issue wasn't fitting them, it was just ensuring that they won't overheat and cause issues inside the tiny case.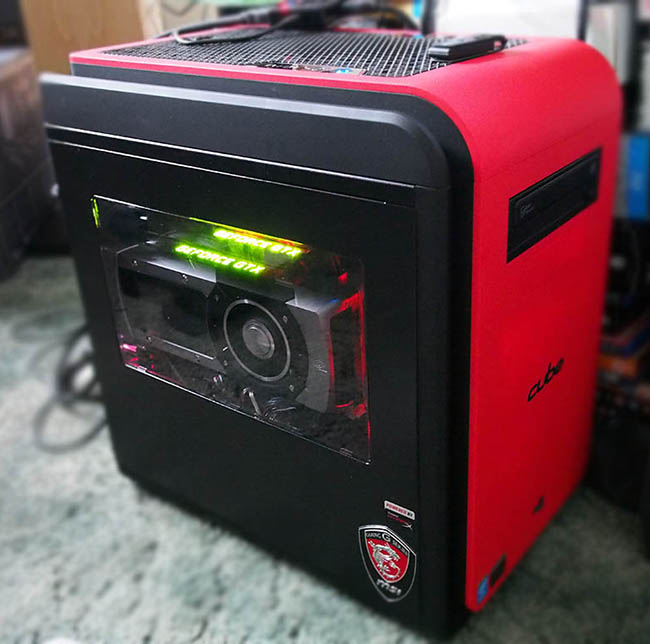 The Aerocool Dead Silence is a small case, but it is fitted with a massive 20cm fan at the front that only spins at 600 rpm. It pushes quite a lot of air, but its whisper quiet. I added in a Corsair 240mm radiator in the top and overclocked the 4770k to 4.4ghz without much of a voltage increase. I have two 4770k's and one of them is a bad overclocker, so I gave it to my kid brother – he is happy enough with that."
So now that he had the main bulk of the system fitted he installed a 1TB Samsung Evo Solid State drive, and a 3TB Western Digital black 7,200 rpm drive for storage.
'I know you don't really need a big Solid State Drive' he said. 'But I love being able to install a ton of things without having to monitor the space left. I know a lot of people like the faster, more expensive units, but the 1TB Samsung drive is a great performer and when paired up with the Western Digital drive, I have 4TB just for game installs and backups.'
He continued 'My biggest issue was getting the GTX Titan Black's powered properly. I bought a wattage meter from amazon and measured that both Titan Blacks in SLI and the 4770k were taking around 500 watts under load so I wanted at least a 700 watt unit. Sadly the only real weakness of the Aerocool Dead Silence is the power supply fitting. They have it engineered to very tight specifications, so any power supply that is slightly oversized will be a problem. In the end I actually bought the Cooler Master V700, I did read the KitGuru review and saw it was using the KM3 Seasonic design, and it was a great deal – so its been working well. Its quiet too.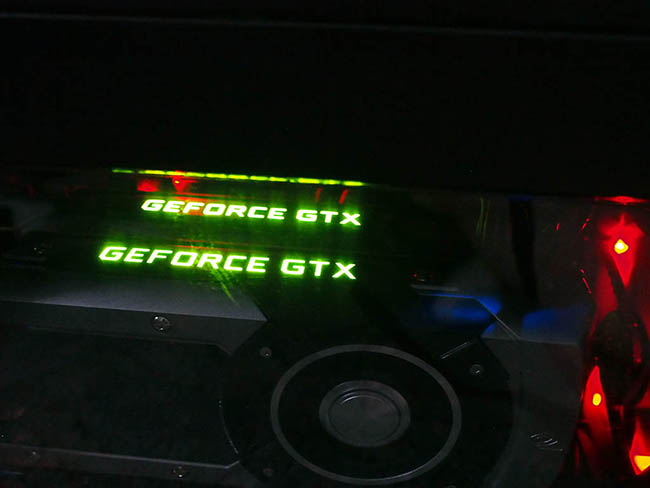 I asked him about the temperature of the GTX Titan Black cards in SLI under load. The MSI Z87M Gaming is a small motherboard and the cards are pressed beside each other. He said 'Yeah, the card installed in the top slot has to to intake air directly from the PCB of the card in front and it was getting hot, so I installed a Dead Silence 120mm fan from Aerocool just in front of the cards to force cool air directly across the length of the cards and out the back of the case. It doesn't add any noise either which I think is great. I mean I am sure it is generating noise, but in that position I can't hear anything more over the other fans. I have some Bequiet! Silentwings fans which I love, but the new Aerocool fans are pretty special'.
Jack says that both cards peaked at around 85c under load – but by adding the extra fan the temperatures on both cards dropped by a full 5c. 'Yeah, I guess it could be better, but its rock solid and has never crashed yet. There isn't really a spot there for the 120mm fan to be fitted, but I used some cable ties to mount it tight to the metal plate and its stable. I put some blutak under it to isolate any vibrations from the metal plate.'
I brought up the point of games and what he was playing right now. He said 'Titanfall is great on the PC, I know its been getting some bad reviews but I think its a fun game to play with friends. With the SLI Titan Blacks, I have pretty much just cranked all the settings and its smooth as butter. The engine isn't state of the art, but with all the settings at top it does look marvelous. Considering its based on the Source engine, I think it looks great.'
I am looking forward to getting my hands on Watchdogs too.' he quickly adds.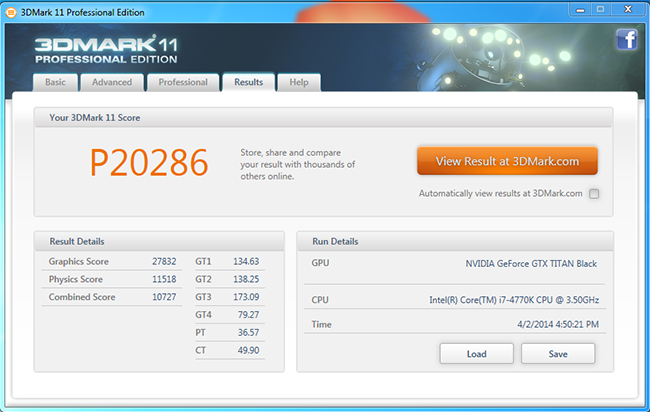 We asked him to take a 3DMark 11 screenshot to send over and the score speaks for itself. A graphics score of 27,832 points is more than treble my own right now. I hide my head in shame.
Someone said that 'the best things come in small packages'. Clearly they saw this system.
We asked Jack why he spent so much time gaming. He said 'I have always enjoyed building the systems I game on. I don't claim to be a modder or a great system builder, but I have always tried to build something different every time I have bought the parts. I don't think you need a lot of knowledge to build a great system, but a little research and some time can help make sure you end up with good, reliable parts. I don't overclock heavily, but a couple of bios tweaks can make you feel as if you are getting more from your money.
I know a lot of people will say this system is completely overkill for what I do, but I try to enjoy life and for me that comes with owning high end hardware. If I can go out gaming with a smile on my face, ill be happy.'
We wish Jack all the best in the future, and we hope he enjoys his gaming for as long as he can. – Carl.