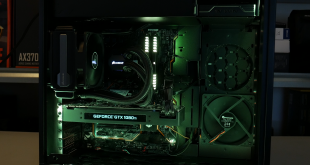 There is no doubt that the PC components market is currently in turmoil. Ethereum mining has driven GPU prices through the roof – to frankly absurd levels – while a global NAND/DRAM shortage has pushed DDR4 memory prices up and up. If you're looking to build a high-end gaming PC, I can't remember a worse time to do it. PCSpecialist, however, wants to carry that burden for you by offering its Vulcan Pro system – complete with GTX 1080 Ti and i7-8700K – for just £1749.
With the rest of the spec boasting 16GB of Corsair Vengeance RGB RAM, 1.5TB of storage space – 512GB of that thanks to a speedy NVMe drive – as well as a Corsair H80i V2 liquid cooler, the PCSpecialist Vulcan Pro looks like a well-rounded system that offers fantastic value for money. Can it live up to its potential and deliver the goods? Let's find out.
Specification:
Case: InWIN 101 MID TOWER GAMING CASE
Processor (CPU): Intel® Core™i7 Six Core Processor i7-8700k (3.7GHz) 12MB Cache
Motherboard: ASUS® TUF Z370-PLUS GAMING: ATX, LGA1151, USB 3.0, SATA 6GBs – RGB Ready
Memory (RAM): 16GB Corsair VENGEANCE RGB DDR4 3000MHz (2 x 8GB)
Graphics Card: 11GB NVIDIA GEFORCE GTX 1080 Ti – HDMI, 3x DP GeForce – GTX VR Ready!
1st Hard Disk: 1TB WD BLACK 3.5″ WD1003FZEX, SATA 6 Gb/s, 64MB CACHE (7200rpm)
M.2 SSD Drive: 512GB WD Black™ M.2 NVMe PCIe SSD (up to 2050MB/s R | 800MB/s W)
Power Supply: CORSAIR 650W TXm SERIES™ SEMI-MODULAR 80 PLUS® GOLD, ULTRA QUIET
Processor Cooling: Corsair H80i V2 Hydro Cooler w/ PCS Liquid Series Ultra Quiet Fans
LED Lighting: 2x 50cm RGB LED Strip
Genuine Windows 10 Home 64 Bit – inc Unlimited Downloads or a physical copy on either a USB or DVD
If we were being picky, there are a couple of minor flaws within the PCSpecialist Vulcan Pro system. First of all, the InWin 101 chassis is perhaps not the most well-built case on the market. It's only a budget case after all – retailing for £67 – but its steel panels do feel a bit flimsy. I'm also convinced that the case's plastic feet would snap off the moment any force is applied to them.
Given the 101's compact nature – it barely fits an ATX motherboard due to the placement of the PSU at the top of the case – cable management is tricky. As you can see in the images above, there are a few trailing front panel connectors which are visible at both the top and the bottom of the motherboard. Matters aren't helped by the fact that the single intake fan (positioned on the right hand side of the case, next to the motherboard) uses a rather ugly black, red and yellow cable.
In short, while the case does sport a lovely tempered glass panel and interesting internal layout, the high-end parts do feel a bit out of place in this lower-tier chassis.
However, those points are – as I mentioned – only valid if we were being picky. The simple fact of the matter is there is no possible way any individual could build a system with this selection of components for less money than what PCSpecialist is offering. At £1749 – which includes the cost of building, shipping and honouring the 3-year included warranty – I make that to be at least £250 cheaper than the cost of buying all the individual components separately.
Because of that, it is very easy to forgive the rather average case. Keeping the cost down there has obviously allowed PCSpecialist to go big on the components that really matter – namely, the graphics card and processor.
Testing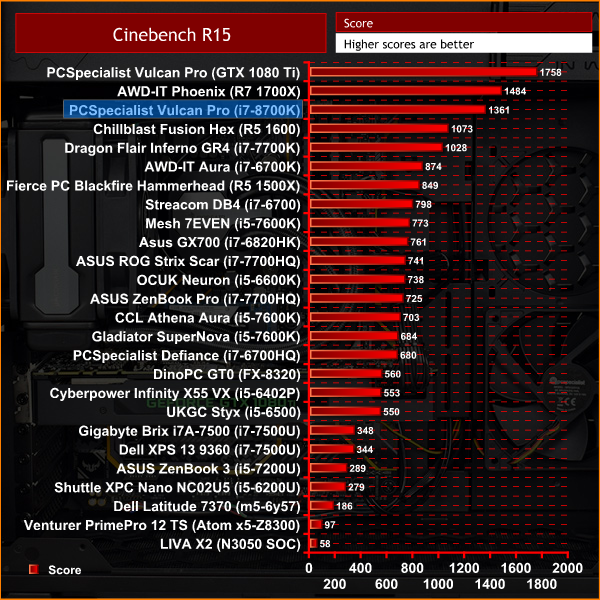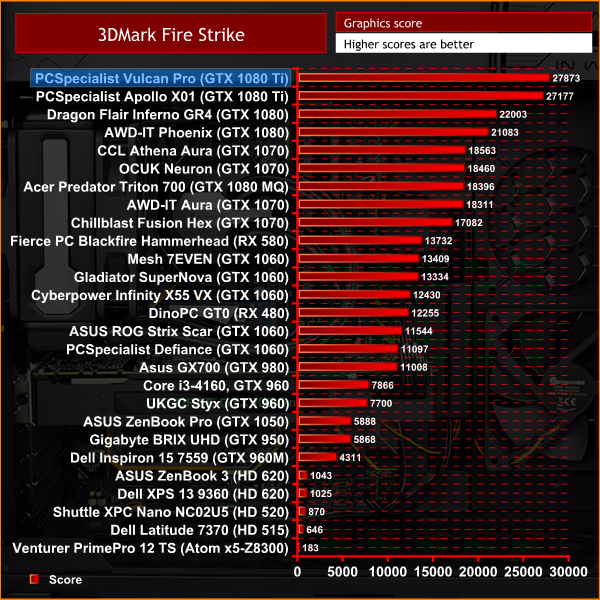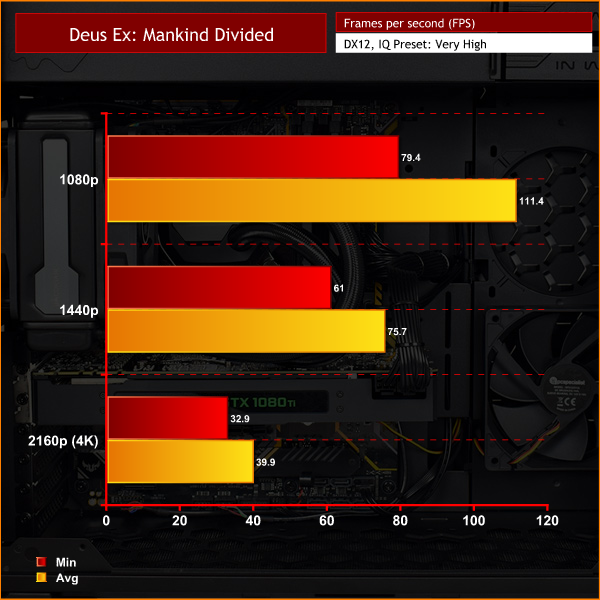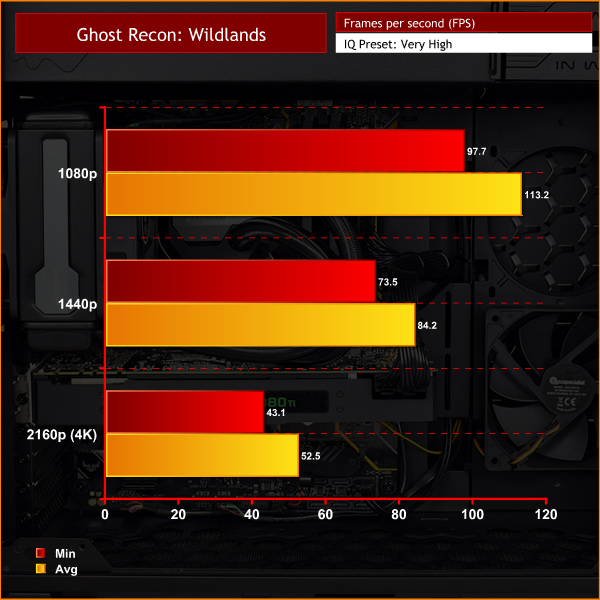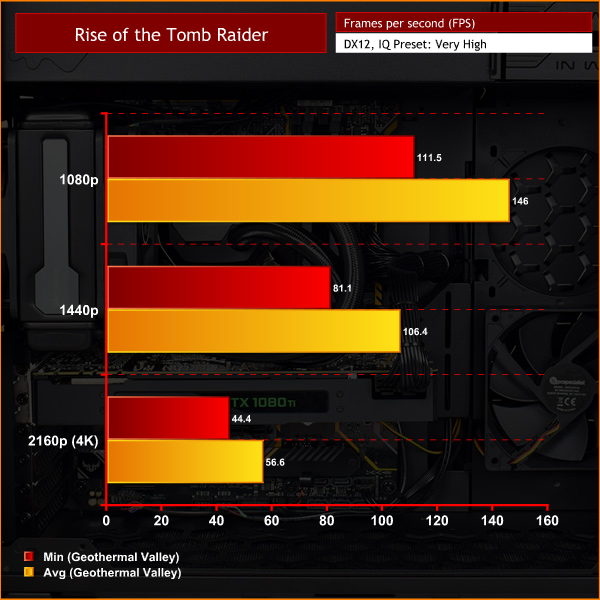 As demonstrated by the above charts, the combination of GTX 1080 Ti and i7-8700K emphatically delivers the goods. You're guaranteed high frame rates at 1080p and 1440p resolutions, while 40FPS seems a rough average for 4K gaming using 'very high' settings.
PCSpecialist could've overclocked the CPU, though, as it has been left at stock clocks. This means the all-core turbo frequency for the chip is 4.3GHz, when we know these chips can easily hit north of 5GHz.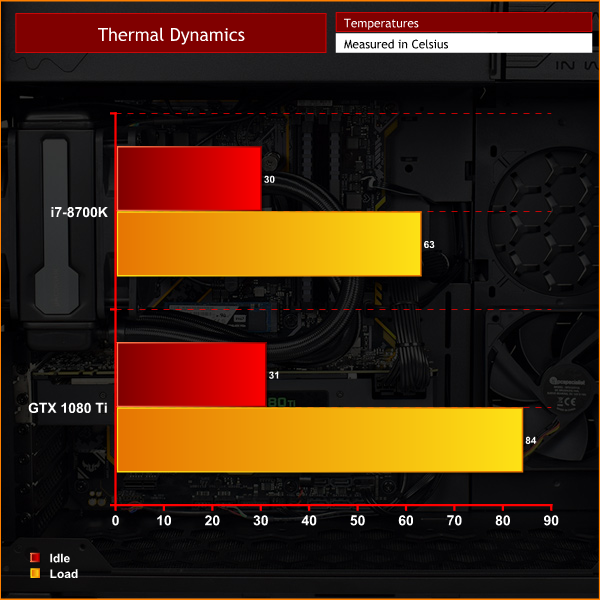 However, the benefit to not overclocking becomes obvious when we get to thermals – a maximum temperature of just 63C for the i7-8700K is almost unheard of. The blower-style graphics card doesn't perform as well as a more sophisticated card would, but it gets the job done.
Another consequence of these impressive thermal results is that noise levels are far from a concern. The system emits a gentle hum while idling which is audible but far from intrusive. The thing is, it doesn't really get much louder under load as the liquid cooler is more than capable of taming the stock-clocked CPU. As such, even quiet music would drown out the noise from the Vulcan Pro.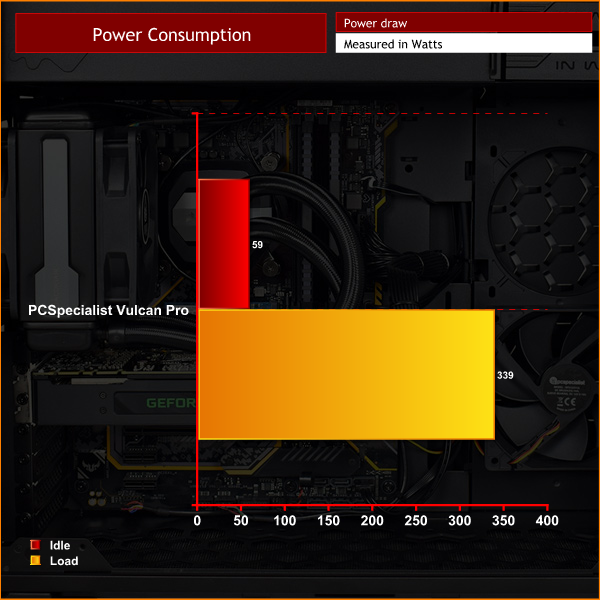 Lastly we come to power consumption. A peak reading of just 339W puts the power draw at just over 50% of the Corsair 650W TX-M's rated capacity, which ensures optimal efficiency and low noise levels as the fan is not having to spin much, if at all. Adding in a second GTX 1080 Ti for SLI is also a possibility, though that would be stretching the power supply to its limits.
Closing Thoughts
To my mind, the PCSpecialist Vulcan Pro is undoubtedly a high-end gaming system that appeals thanks to its competitive price – at just £1749, there is simply no way an individual could build the same system for less money. In fact, by my calculations, the total cost of the Vulcan Pro's components is over £2000. With that in mind, the Vulcan Pro is actually a fantastic bargain.
On another day, in a time where GPU prices are more sensible, we may well have been a bit more critical of the relatively flimsy case, or the front-facing cable management. However, as it stands, we just can't argue with this combination of parts considering the price.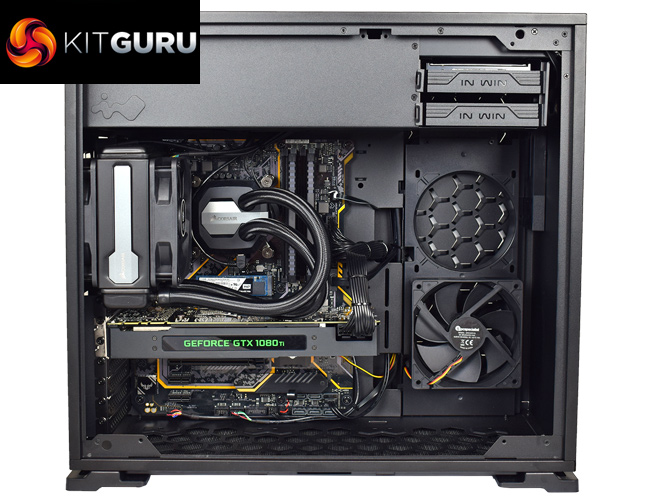 As such, if you had even the faintest thought of building your own high-end system in the coming days or weeks – don't, at least not until prices return to normal. Instead, go with the PCSpecialist Vulcan Pro and you'll get it built, shipped and covered by warranty for £250 less than what you'd pay if you built it yourself.
You can buy the Vulcan pro for £1749 HERE.
Pros
Simply unbeatable value given the current climate.
i7-8700K and GTX 1080 Ti is a winning combination.
Impressive thermals.
Low noise levels.
Compact.
Cons
InWin 101 case is a bit basic.
CPU could've been overclocked.
KitGuru says: Even with a couple of minor flaws, these are very quickly forgotten when you consider the price of the Vulcan Pro. At £1749, there's just no way you're going to get a better deal on a high-end gaming PC given the current market situation.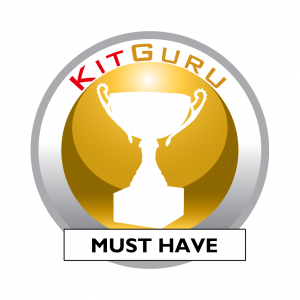 Be sure to check out our sponsors store EKWB here