IBM PC architecture was designed to be modular, expandable and open from its inception back in the eighties. Still, PC designs were not designed to be completely user friendly. As technologies got more complex, it became harder for many end-users to upgrade and configure their personal computers. Razer, a leading producer of gaming gear, wants to change that with its project Christine, a concept system that the company calls the "world's most modular" PC design.
Things that greatly complicate customization and upgrade of personal computers is necessity to disassemble PC cases, unplug various cables, install new hardware and plug everything back. PC enthusiasts also have to ensure that all components are compatible with each other, there is enough supply of power, sufficient cooling and everything works at maximum level of performance. Razer's project Christine features unique modular design that makes it much easier for end-users to configure and modernize their PCs.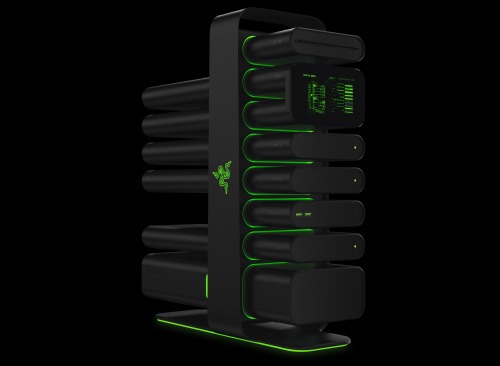 Razer Christine features a PCI Express 3.0-based backbone that connects various modules of the PC, such as graphics processing units, storage devices, audio solutions and other. Modules connected to the PCI-Express backbone can be added in any order or combination, featuring up to quad-SLI multi-GPU graphics setups, multiple SSD and RAID storage components, I/O and even power supplies, ensuring maximum flexibility. Users can simply plug or unplug modules easily and conveniently.
The cable-less design of each sealed module is entirely self-contained and features active liquid cooling and noise cancelation, which allows Razer to factory overclock components without voiding warranties, safely and quietly. The system also features a touch-screen LCD display that indicates control and maintenance information.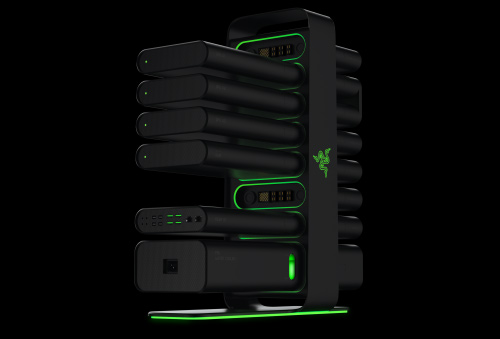 Razer promises that project Christine will allow any user to assemble and customize his or her PC in any configuration without any prior technical knowledge. Moreover, as new upgrades emerge on the market, the same PC can be effortlessly and rapidly upgraded without additional technical assistance and without the fear of incompatibility or obsolescence.
Advantages of Razer's project Christine are pretty obvious. What is unclear is whether modules for Christine will be proprietary and therefore only available from Razer. In this case components will likely be considerably more expensive compared to off-the-shelf hardware.  Furthermore, they will be available exclusively from Razer, which will limit choices.
Pricing of Razer's project Christine conceptual system is unknown. The company also has not revealed pricing of the modules.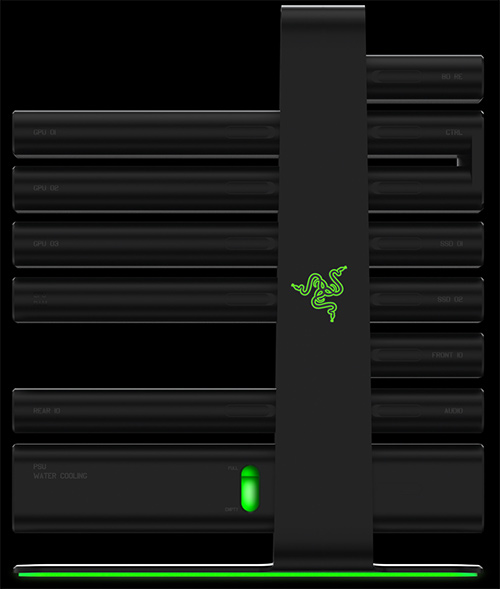 KitGuru Says: From technology points of view, making modular graphics cards, solid-state drives, power supply units and many other components is hardly a complex thing. However, swapping a microprocessor (which requires a chipset and a mainboard change since CPU form-factors usually change with new generations) is a much more complex task. It does not look like Razer's project Christine solves it completely.