Panasonic on Tuesday introduced the world's first and yet the only tablet PC with 7" display that is based on Intel Core i5 "Haswell" microprocessor as well as Microsoft Windows 8.1 operating system. The tablet not only sports high-performance central processing unit and fully-fledged Windows, but is also rugged and comes without any fans.
Panasonic Toughpad FZ-M1 is designed for mobile workers of all kinds, but is particularly suited as a more flexible and capable replacement for ageing rugged PDA devices in logistics, transportation, retail, manufacture, government and emergency services. The device supports majority of legacy applications, which means that it can be rapidly deployed. At the same time, its weight and size should not be a problem for people used to utilize smaller devices.
The Toughpad FZ-M1 is powered Intel Core i5-4302Y vPro processor with a very low power consumption of just 4.5W. The system features 4GB DDR3 RAM (8GB optional) and 128GB solid-state drive (256GB optional). The Toughpad FZ-M1 comes with 7" display with 1280*800 resolution. Panasonic's new rugged tablet weighs only 540 grans and is only 18mm thick. As standard, the Toughpad FZ-M1 includes a full size USB 3.0, Micro SD, Headset, DC-In and microSIM. Eventually, Panasonic will offer an Intel Celeron-based tablet in the same form-factor.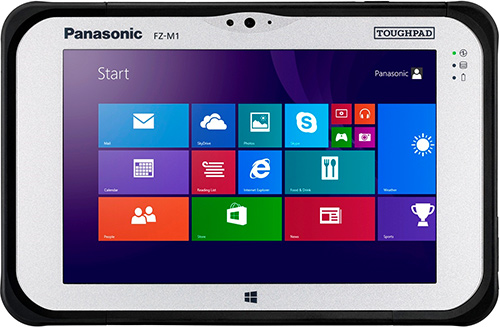 The Toughpad FZ-M1 is also highly flexible with its configuration ports and its integrated business expansion module. The device can be configured exactly for the needs of the business and transformed from a tablet into a mobile tool for vertical applications. Configurable integrated options include 4G mobile broadband, GPS and vehicle pass through antenna. The integrated business expansion module options include Mini-Serial, LAN, NFC, smartcard reader, 1D/2D barcode reader, UHF RFID and battery hot swap capabilities.
The Toughpad FZ-M1 will be available from February 2014 at a starting price of £1183. The price is probably one of the main disadvantages of the device. Still, since the model FZ-M1 is barely designed for consumers, this may not be a problem.
KitGuru Says: It is good to have a high-performance working tool in an ultra-small form-factor. The only problem with that is that 7" display seems to be too small for a comfortable work.