Alright guys, let's do this. We've seen teases, heard rumours and glanced upon leaked box art but now finally, Sega has unveiled not only details on the game, but our first look at Amanda Ripley, Ellen Ripley's daughter and a devblog that explains some of the motivations behind the game's development.
[yframe url='http://www.youtube.com/watch?v=Xnqk12RWWUY']
Did anyone else chuckle at the overly obvious 'this isn't the final game' notice?
In the trailer we see Ripley making her way – alone – around a station/ship, using tools to cut through bulkheads and avoiding the seemingly stalking presence of the Alien threat. It looks a little scripted in places, which might mean we're in for a pretty linear affair, but I'm still holding out hope that this is more of a survival horror experience, rather than a corridor with a few jump scares.
It's very pretty, but so was the original Aliens: Colonial Marines (ACM) trailer and look how that turned out.
[yframe url='http://www.youtube.com/watch?v=dlgg9C5XqKE']
The devblog is even more interesting in reality, as it shows some very heavily influenced scenes that just look fantastic. The silence of the ship, the big, round table from the original movie, the 70s future tech – there's a lot of elements here that have quite clearly been taken from the first Alien film, influences the next Alien game heavily needed after the run (sometimes through whole levels) and gun gameplay from ACM.
You'll also be pleased to hear that there is just a single Xenomorph in this game and you'll be worried about where it's coming from next. Briefly we see a player use their torch to check between some piping, as we all know from the film's ending, that those aliens love hiding between some warm steam ducts.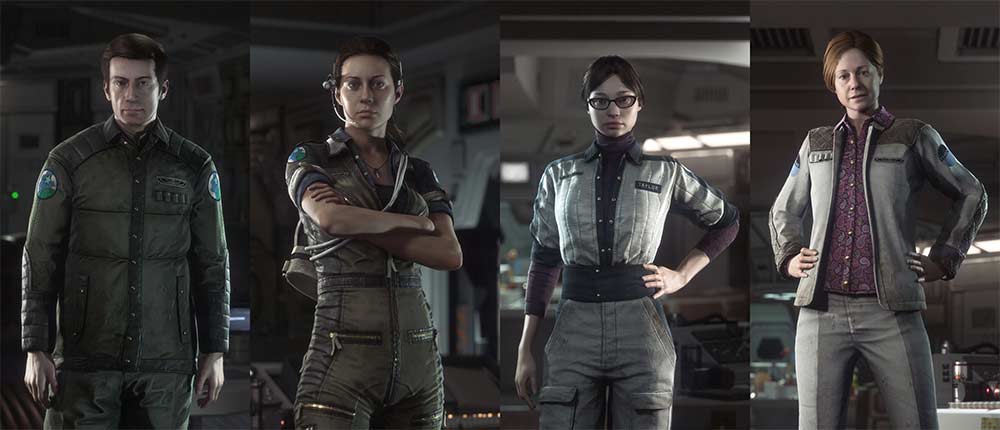 No word on who these people are (apart from Ripley), but presumably they're co-op team mates. I wonder what that key around Ripley's neck is for?
At the end of the video they say that they wanted to make the Alien game people have been waiting for. So far it looks like they might have gotten it right, but with the previous Alien game being such a disappointment, it's going to take something special to brush away that jaded view of Alien games.
Alien: Isolation is set for release towards the end of 2014, on Xbox One, Xbox 360, PS4, PS3 and PC.
KitGuru Says: Well I'm still impressed. The trailer looks a little scripted, but it's a trailer, that's sort of the point. I look forward to seeing some more gameplay footage, hopefully with a better look into the scavenging element they briefly touch on in the videos. I want to see how Amannda improvises her defence.
I just hope if I rig up a make-shift flamethrower no idiot stands in the way when I could fry the thing.
[Thanks
AGB
]